We Can't Celebrate 50 Years without Acknowledging Our Longest Tenured Employee
Retired General Superintendent Dave Williams began his 42-year career with Aldrich at just 18 years old!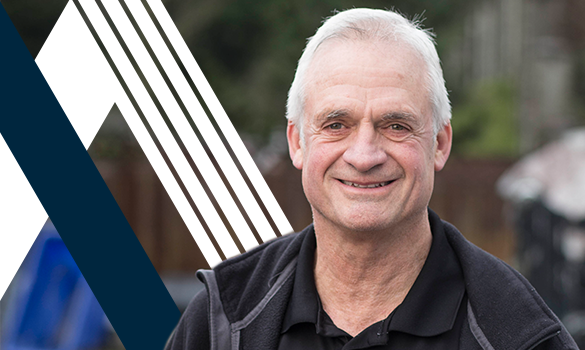 Long-term employees are becoming rarer as job-hopping becomes more commonplace in every industry. Aldrich is honored to have several A+ team members who have spent the better part of their careers with us—in fact, we celebrated not one but two 25-year anniversaries in August in our 50th anniversary year, for Superintendent Brett Price and Lead Carpenter Trever Gore . But a special distinction goes to former General Superintendent Dave Williams, who retired in 2017. At 42 years with Aldrich, Dave maintains the tenure record as our longest-term employee – that's a long time! "I worked at Aldrich longer than I've been married!" said Dave.
A Career of Opportunities + A Legacy of Values
Dave Williams joined Aldrich in 1975 when he was 18 years old. He worked on a variety of projects, from military facilities to custom homes and schools, doing concrete, mechanical, site work, and more. He was also a big part of Aldrich's move into medical office buildings that shaped the trajectory of Aldrich's current focus on healthcare projects. "I learned how to do a lot back then… I wore most of the different hats you could wear in the field," said Dave.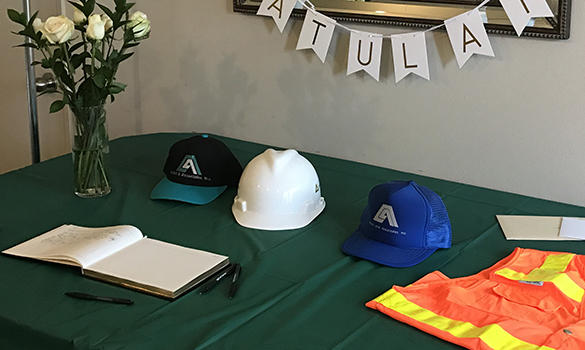 Dave's "many hats" were displayed at his retirement party in 2017.
Dave was promoted to superintendent in 1979 and worked on a variety of project sizes and types; everything from the new construction of Burien's Three Tree Medical Arts Building in 1989, and later the MRI tenant improvement in 1991, to the Sky River Medical Center at Valley General in Monroe (now part of EvergreenHealth), to a multitude of smaller tenant improvement projects for clients like EvergreenHealth, Overlake Hospital, Northwest Kidney Centers, Eastside Endoscopy Center to name a few. Dave's project successes and the relationships he built with public and private owners, industry partners, and Aldrich team members alike, left a lasting legacy that is still felt today.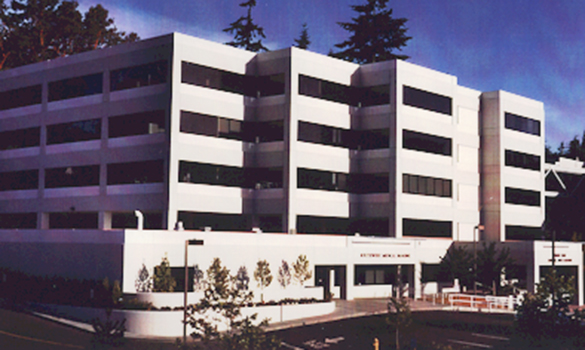 Dave was Superintendent of the Three Tree Medical Arts Building completed in 1989.
Dave once said, "There are no problems, only solutions, and opportunities," recalls General Superintendent and Safety Officer Matt Perhatch. And when Dave retired in 2017, he passed the baton to Matt who stepped in to fill his shoes as General Superintendent. Matt says as a mentor Dave embodied, "…every value you can think of. Dave is the most genuine, even-keeled, and soft-spoken man you'll ever meet."
Matt knew Dave before coming to Aldrich, "Aldrich was the only contractor that I applied for when I decided to make a career change. When Dave Neihaus saw that I had Dave Williams and Bruce Estrada on my resume as references—he hired me on the spot."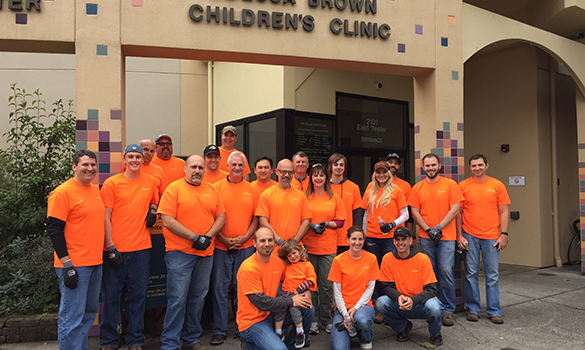 Dave volunteered alongside Aldrich team members, including then Superintendent and protégé, Matt Perhatch, at the Seattle Children's Odessa Brown Children's Clinic grounds clean-up in 2015.
In 2005, around the time Dave was leading construction efforts for the shell and core construction of the 51,508-SF Sky River Medical Center in Monroe, he was promoted to General Superintendent. "I was fortunate enough to work side by side with Dave when I ran my first job for Aldrich," said Matt. The pair worked together on the Sky River Medical Center project. "Dave was building the shell and core of the Monroe MOB, and I was running a tenant buildout for the [adjacent] hospital inside. Dave took the time to walk me through how to be successful on a project. I closed out the Monroe MOB when Dave took his new position as General Superintendent."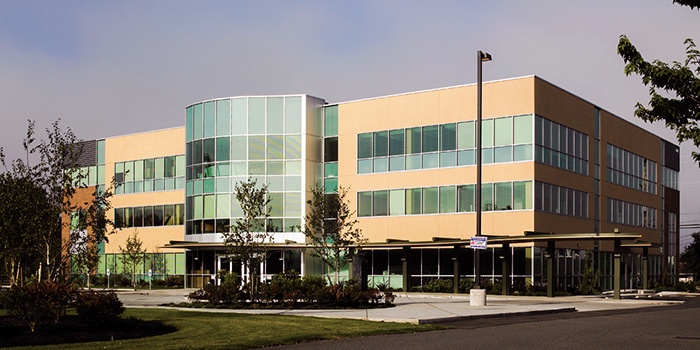 Dave and Matt Perhatch worked as Superintendents together at the Sky River Medical Center in Monroe completed in 2005.
Long-Term Teams = Long-Term Clients
As a small company, our A+ team members often wear multiple hats and support each other with projects and problem-solving. Dave recalled the fun and benefits of workforce sharing, moving from project to project as work required. "It was one of the ways we had a really consistent workforce. There was value in keeping people around and forming relationships. Clients were reassured to see that workers were coming back to projects over and over; that really helped build trust and expertise over time, especially with repeat clients. A lot of long-term teams and long-term clients were formed this way," said Dave.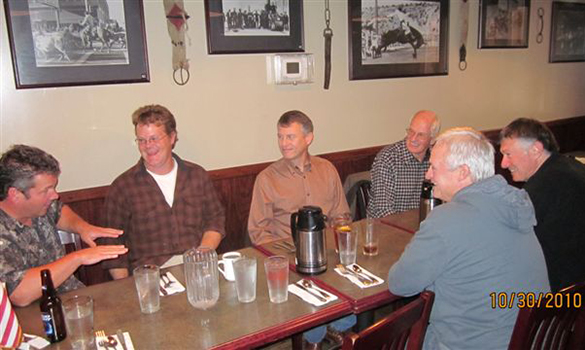 Long-term relationships were formed on and off the jobsite; Dave with industry partners and Aldrich team members in 2010.
Changes Over the Years
Dave saw the construction industry change over time as he worked at Aldrich. One of the shifts that stood out to him was the emergence of prefabrication. In the past, Aldrich used to do more assembly work in the field. Now, several elements arrive at project sites preassembled and ready to 'plug and play.' "From a TI sense, for example, we used to work on-site together with the carpenter and the locksmith to assemble doors," Dave said, "Now, it's very rare to get a door that isn't already measured, framed, and prepared for hardware (still installed in the field.)"
While fabrication for key elements such as doors is mostly completed offsite now, the focus is still on accuracy. Early coordination with suppliers, and rechecking measurements for accuracy, ensures installations go as expected upon delivery, avoiding costly rework and time loss.
"A Lifetime of Good Relationships + Good Friends"
Aldrich's focus on authentic, personal attention for both clients and employees has been part of the company culture since the early days. Asked about how Aldrich exemplifies its values, Dave recalled stories about getting to know clients and colleagues beyond the projects they shared, recalling many different individuals he'd worked with over the years with whom he formed strong relationships. For example, he recalled participating in an annual Christmas caroling event with an oral surgeon and his family, for whom Aldrich had built several medical offices and renovated several homes. "We were small enough that we got to know each other over the years," he said.
Dave also recalled opportunities for Aldrich team camaraderie and a focus on family, from fishing trips, the company softball team, golf outings, and leaders such as Jerry Aldrich making sure people knew they were encouraged to take time for their families. "Whenever people enjoyed each other outside of work, it made the work feel better," he said. Aldrich carries on several of these traditions today—for example, more than 40 A+ team members recently went fishing together!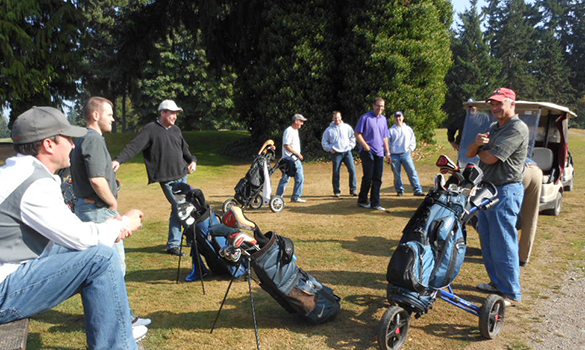 Dave and Aldrich team members at a golf outing in 2012.
Parting Thoughts
"Longevity with a company is viewed differently in this day and age. I think that people will realize over time that there is still value in it. But companies have to work at that; they have to give people a reason to stay… There will always be a value and a need for people and companies that value relationships."
We plan to work hard on always making sure people find good reasons to stay at Aldrich. Building relationships and valuing our team—both employees and our project partners—is at the forefront of our minds every day.
Thanks for staying for 42 years Dave! You're an example to us all!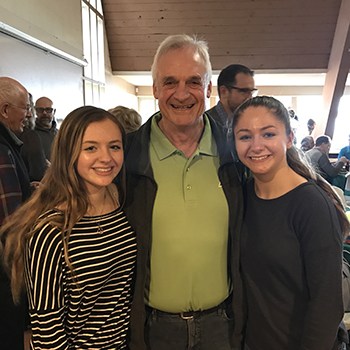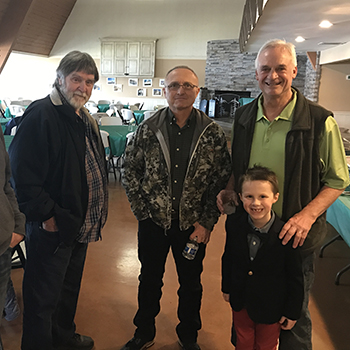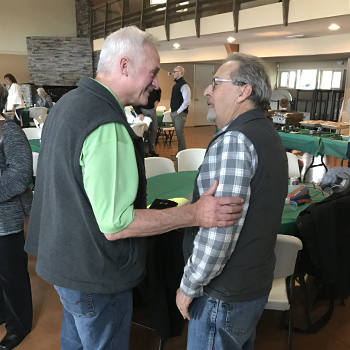 Dave celebrated his retirement with family and friends in 2017.