Perseverance + Innovation at NKC Panther Lake
Construction is Underway for the Progressive Design-Build Delivery of the New Dialysis Clinic in Kent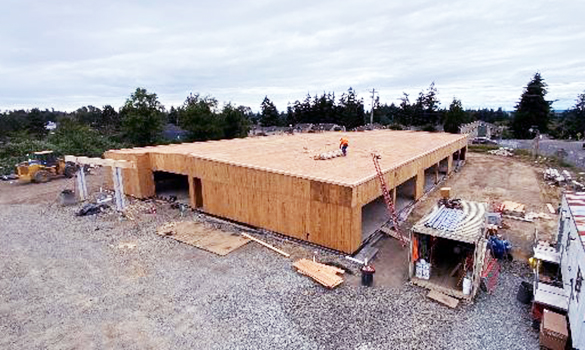 Construction is underway on a new dialysis clinic for our long-term client partner Northwest Kidney Centers (NKC) under the progressive design-build model. The new 9,473-SF facility is prepped with capacity for future expansion and is located in the Panther Lake neighborhood of Kent. The center will expand locally available outpatient dialysis services for patients in south King County, including Kent, Maple Valley, and Covington.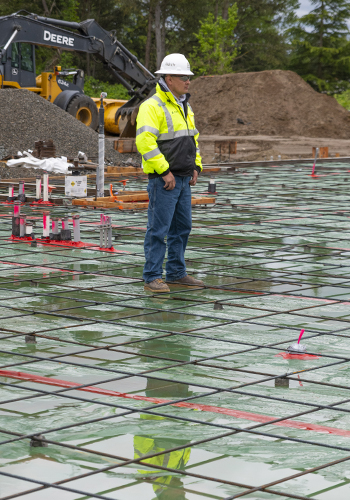 As the design-builder, Aldrich is working in partnership with Mahlum Architects, KPFF as the civil engineer, Brumbaugh and Associates as the landscape architect, and PCS Structural Solutions as the structural engineer. The MEPF design-build team includes Stirrett Johnson, Inc. for plumbing, Northstar Electrical, MacDonald-Miller for HVAC, and Archer Construction for fire sprinklers. The facility will be completed in January 2023.
The Aldrich A+ project leadership team on this project includes Project Manager Marijane Daumen, Superintendent Christian Sanchez, and Project Engineer Madison Balcom.
Finding the Silver Linings in Delay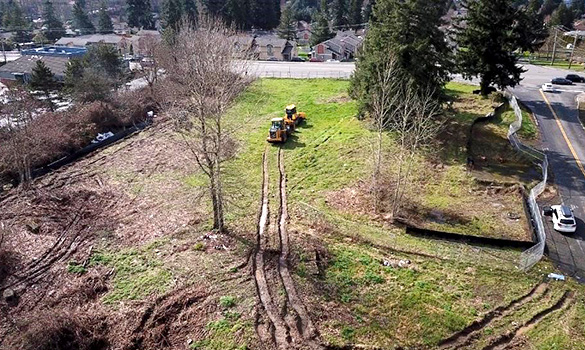 One of the greatest challenges the NKC Panther Lake team has faced is a long permitting process that delayed the start of construction by 11 months. In an already volatile construction market still racked by severe supply chain impacts, the uncertainty around the start of construction caused by the permitting process created high risks for project cost escalations. Project Manager Marijane and Project Engineer Madison remained in constant communication with the subcontractor community during this time, regularly following up with new timeline details as they become available and making sure subs were in contact with the vendor community so that when the permit was received, all key players would be able to mobilize quickly with updated cost and schedule information that could be factored into the project plan.
The permit delay was not without its opportunities, and the team looked for ways to maximize these silver linings. The extra time reduced the risks of construction materials delivery delays from unprecedentedly long lead times—orders were placed well in advance and materials were received and stored, ready to go when construction commenced. The cost of lumber also dropped from last year's all-time high, reducing the need for the lumber escalation contingency in the budget.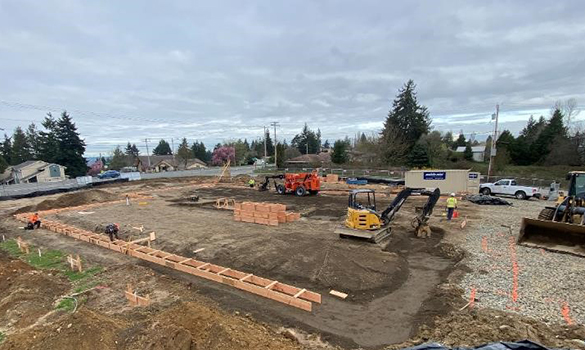 Our project leaders Marijane, Christian, and Madison were also able to leverage a long planning runway, meeting weekly to process submittals, understand the design plans, and create a detailed construction execution plan. The only thing left to do when the construction start date was locked in was to integrate the subcontractors into the well-thought-out overall plan, which supported rapid mobilization once the green light was received.
The NKC Panther Lake team also benefited from following the lead of another very similar NKC facility being built in Port Angeles with the same design-build team as Panther Lake. With ongoing coordination between our different site teams, Panther Lake was able to implement real-time lessons learned as the Port Angeles team implemented their plans.
Solving for Uncertain Soils
The project received its permit in February 2022, allowing construction to commence. The earthwork was one of the first activities and required nimble teamwork between Aldrich, KPFF, our geotechnical partner PanGEO, the owner's representative Spectrum, and Archer Construction to adapt to working in unfavorable soil conditions. The original schedule had earthwork being completed over the summer, with designs developed for these drier conditions. However, the permit delay meant working with soils drenched by one of our wettest winters on record. With proactive coordination, the team quickly proposed solutions, and everyone convened in a meeting to review and confirm a game plan, resulting in same-day decision-making that kept the project moving forward, liming schedule impacts from these challenging soil conditions.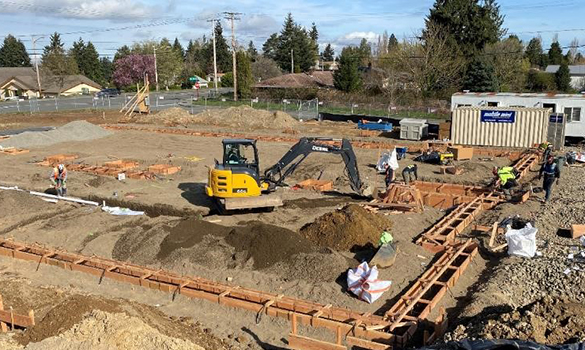 Meeting Multiple AHJ Requirements
Another challenge that Marijane and her team have tackled with proactive coordination and communication is balancing all requirements from multiple AHJs (the City of Kent as well as Soos Creek Water and Sewer District) and accommodating the already challenging material requirements unique to dialysis centers. Because dialysis uses reverse osmosis, which requires highly pure water, only certain piping materials that can resist corrosion can be used. The team successfully navigated this multi-layer, multi-jurisdiction process of ensuring materials standards and different requirements were successfully understood and implemented across all aspects of the project.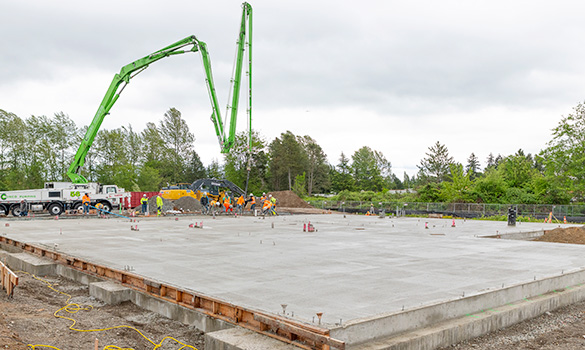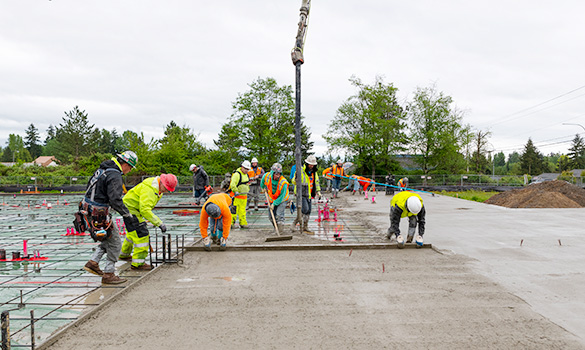 Innovation for Up-to-Date Communication
The ups and downs of this project process have emphasized the importance of timely and ongoing communication to make sure that all project participants have up-to-date information. As construction continues in earnest and more subcontractors are onsite, Aldrich is using a new and innovative way to provide easy, real-time access to up-to-date information in the field, which will support ongoing efficiency and accuracy in our daily project execution.
On the wall of the Aldrich team trailer onsite is a QR code that anyone can scan to bring up the latest and greatest documentation, including RFIs and ASIs. We're also implementing a pre-review process for subcontractor install and shop drawings so that all information can be verified and then made available by QR code on site. We have high hopes that this method will improve information clarity and access, and will become the new standard for all our projects.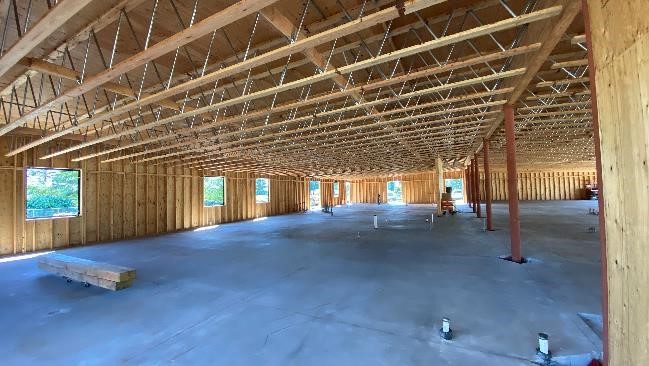 What's Next
After a long delay, construction is now moving along at a fast pace. We just finished the exterior framing and sheeting, and we're moving on to sheeting the roof and then starting the exterior enclosure process to create a weather-tight building. Once we're enclosed, we'll begin work on overhead MEP and interior framing. We'll also begin extending site utilities work for sewer and fire connections into the right of way in the street. Stay tuned for more updates as this exciting project continues this summer!