A+ Approach to Safety
The majority of our projects are completed within occupied and technically sophisticated environments. As a result, we have developed specific means and methods for safe work practices considering the impacts the construction environment has on each stakeholder. Our safety record speaks volumes relative to the success of these practices within challenging work environments requiring our constant vigilance to avoid distractions. We excel at maintaining a safe, clean, organized work environment to safeguard the comfort and safety of everyone on the jobsite.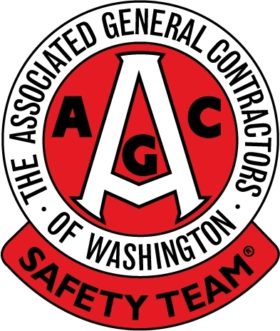 Aldrich is a proud member of the AGC Safety Team
"You clearly understand our requirements for working in our special environments to meet the demands for patient and staff safety, and special needs, while constructing new and remodeled spaces around them." —Dick Morgan, Evergreen Hospital + Medical Center
---
Our Lean Journey
Lean is the practice of continuous improvement through the elimination of waste by focusing on time and improving quality.
Over the last decade, these principles have been adopted within industries such as healthcare and construction with varying degrees of success.
We feel that this approach is most effective when it is embraced by the company as a whole and are committed to sustaining our lean culture for the long-term. Our entire organization has been trained and certified through the AGC Lean Construction Education Program. Our lean focus supports best practices, fosters collaboration, and produces efficient and economical projects.
Lean certification is just the beginning of Aldrich's lean journey. In conjunction with this certification, we have launched new systems for driving lean processes into project delivery, including processes for managing diverse teams, tools for technology collaboration, and innovative techniques for quality control on fast-track delivery projects. Collectively, these processes are what we call our "A+ Approach."