"35 Years Went by Pretty Quick!" Says Superintendent Dave Nusser
As our longest-tenured team member on staff, Dave has seen a lot of changes in his more than three decades with the company.
One thing that hasn't changed is Dave's commitment to the highest quality project delivery for our clients and building relationships along the way.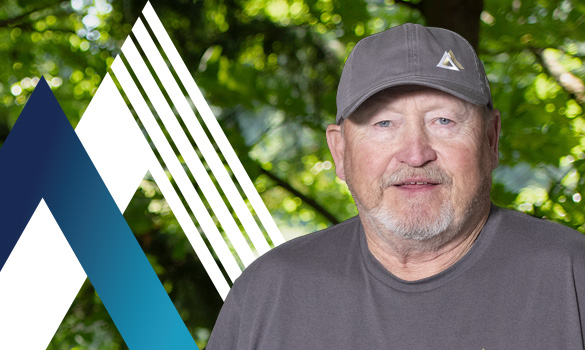 Dave started at Aldrich in July 1988 after getting connected through junior high/high school classmates Dave Williams, retired general superintendent, and former Superintendent John Sackett.
Aldrich was looking for a carpenter to work on founder Jerry Aldrich's and retired President Jonathan Fasts' rental houses and when the work was completed, they tried to recruit Dave. At first, he said no. He was making a good living and was busy. Before Aldrich, Dave was self-employed, getting his start in residential construction framing houses, and doing home renovations. After being in business for himself with all the responsibilities and late-night phone calls from clients, he realized all he really wanted to do was work as a carpenter. Several months later when Aldrich asked again, Dave decided to join the team, and we are ever grateful that he did!
From his very first project remodeling Dosey's furniture store on Highway 99 in Shoreline into a Burlington Coat Factory to now working on Seattle Radia's PET-CT Replacement, Dave has seen and experienced a lot of growth and innovation at Aldrich.
Being In It Every Day, Communicating with the Teams
Dave's ability to lead teams didn't go unnoticed and he was elevated to foreman in under a year. Initially, he was hesitant to take on the role, but Dave Niehaus, retired General Superintendent, talked him into it and he grew to love it. When asked what he enjoyed most about being a foreman, Dave said it was working alongside the crews out in the field. "It was fun organizing our workers, finding the best person to do the right thing on that project, and being in it every day, communicating with the teams." He also liked passing on his construction knowledge to up-and-comers and seeing how those team members have grown in their careers with Aldrich.

Dave prefers to work on smaller projects because the team and the owners are usually a more close-knit group. For him, there is no project too small like the Fife Home Training Center for long-time client Northwest Kidney Centers or Northwest Eye Surgeon's Class C OR Upgrades in Seattle where he worked with Project Manager Matthew Schultz. "Dave has been the model of commitment and loyalty through countless projects for Aldrich. Willing to fill in and support our teams when needed, he is also a strong leader who I am honored to have worked with," said Matthew when asked about his time collaborating with Dave.
"The most rewarding part of the job," Dave said, "is when we finish up a project and you can see that the owners are happy with the facility. When the client recognizes we did a good job, they will come back to us to do their next project."
In his 35 years, Dave has worked on a whole lot of small projects in addition to several monumental projects like the Skony Woodinville Medical Office Building to Jefferson Healthcare Emergency Services and Specialties Building in Port Townsend, but the most memorable for Dave being the Franciscan Medical Office Building and Garage at St. Joseph in Tacoma. "It was a huge project that put Aldrich on the map," Dave said. "When we interviewed for it, we didn't think we were going to get it… and then we got it. It was by far the biggest project we had ever done, and there were a lot of uncertainties."
"The tie-in of a new medical facility to the existing hospital with a sky bridge was something we hadn't done before and everybody was pretty nervous," remarked Dave. "George Ward was project manager of the shell and core, and with Matt Perhatch along with several other Superintendents like Randy Carlson and Mike Fast working on the tenant improvements, it was completed without a hitch and the project was a big success."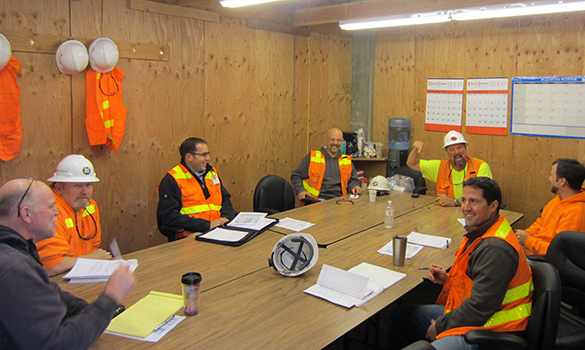 We Call Ourselves the A+ Team and That's the Way it Is!
It's the Aldrich leadership team that has kept Dave around all these years. "From Jerry to the leadership now, I can't think of a better situation," said Dave. "Jerry came out to the job all the time, met with you, would sit down with you. He was more of a one-on-one communicator, but we are bigger now than we were back then. George and John are more team-oriented – sports-minded in their leadership styles. We call ourselves the A+ Team and that's the way it is. They do an excellent job of making everybody feel they are valued, included, and important to the success of the project. We are more of a unified group now, like a football team."
Dave wanted to give some credit to Project Executive Dave Gray, "When I became a superintendent, he was the one that took me under his guidance to make me a better Superintendent."

For the Love of Family… And Disney
Dave is a huge sports fanatic and is a lifelong Washington Husky fan. Outside of work, Dave enjoys camping with his wife, Teresa, although he says, "She probably enjoys it a little more than I do!" Dave and Teresa have two sons. Jeff, a WSU alumnus, now a teacher, has added three beautiful grandsons to the family, and their son Eric, is a lawyer. Eric worked for Aldrich for a few years as a carpenter, so when he and his wife went to the University of San Francisco, Eric used his knowledge of construction to work on high-rises in California and put himself through law school. The pair love spending time with their family and last Christmas they went to Disneyland together which Dave said was "magical."
"We share a love of all things Disney and compare photos of our Disney-themed Christmas decorations every year," said marketing coordinator Lara Taber. "But what I really appreciate about Dave is that he is genuine and humble and cares a great deal about the people he works with."

Put in Your Time and Be Dedicated
When asked if he had any words of wisdom for new hires, Dave said, "Aldrich is a great place to work… Put in your time and be dedicated. For a new crew member coming in sometimes there are sacrifices to be made. You might have to work nights or weekends, but it's worth it," adding, "Work with Matt Perhatch every chance you get. I can't think of a better general superintendent to work with."
Dave went on to say, "If I ever decide to retire, I'll be sad, because I really enjoy what I'm doing. I stay because everybody at Aldrich has the same goal in mind – to please the customer and to do good work."
Join us in congratulating Superintendent Dave Nusser on his 35 years with Aldrich! Dave, we cannot thank you enough for your dedication and all your amazing work with Aldrich!