Aldrich Celebrates 50 Years
Reflecting on the Past, Envisioning the Future: Letter from President George Ward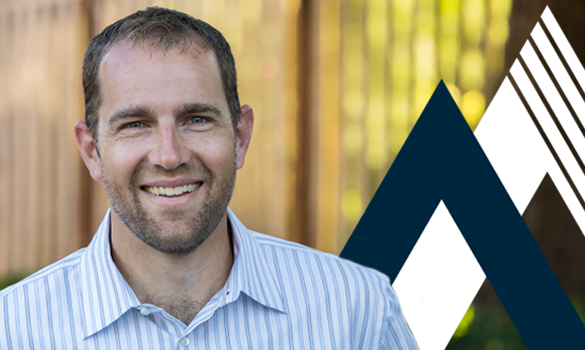 The end of one year and the beginning of the next are always great opportunities to both reflect and envision—reflect on the year before and envision the possibilities for the year ahead. As we've all weathered the uncertainty and challenges that the past couple of years have brought us, as an industry as well as personally, it's refreshing to seek out and celebrate the prospects and growth that this time has brought as well. I'm looking forward, knowing that while challenges still await, we are all more resilient and more inspired than ever by our ability to thrive through whatever comes our way.
For me, and for Aldrich, the turn of the year to 2022 came with the additional perspective of reflecting on our whole history: Aldrich celebrates its 50th anniversary in 2022. This major milestone is quite an achievement—but to say that is still such an understatement. We have grown, persevered, and accomplished so much in our 50 years as a firm. It is humbling and inspiring.

Reflecting on the Past
Founded in 1972 by colleagues and friends Jerry Aldrich and Fred Hedman, our company began constructing custom homes and a variety of small commercial projects throughout Washington. In 1980, Jerry renamed the company Aldrich and Associates, Inc. following Fred's departure. As the company continued to grow, Jerry invested in the Aldrich team and its culture. Continuity was especially important to Jerry, and through investments in leadership training and a sustainable continuity plan, Jerry started transitioning leadership in the mid-nineties to Jim Brink and Jonathan Fast. Jerry fully divested himself from the company in 2006 and Jim and Jonathan expanded Aldrich into the public sector and continued to invest in our relationships and approach in constructing medical facilities. By 2015, 100% of our work has been focused on technically sophisticated facilities for medical and science-related environments. In October of 2019, I had the honor of taking on the role of President, along with my colleague and friend, Vice President John Schuh by my side and the support of a strong leadership team and our amazing, dedicated employees. The past two years have certainly been challenging with the pandemic and unprecedented market volatility, yet my belief in our company and our future has never been more optimistic.
Throughout the years, Aldrich has cultivated and maintained long-term relationships with clients and design partners, grown in every sense of the word, and had opportunities to work on some of the most important construction projects for our region's vital medical and life science facilities.
I think back on my own start with the company, and it follows a similar path of opportunity, growth, and long-term relationships. Between my junior and senior year at UW in the Construction Management program, I got a last-minute opportunity for a summer internship with Aldrich—I interviewed in the same room that is my office today and met John Schuh, who was one of my interviewers. That summer, I worked on a variety of projects including a custom home, a public elementary school, and a few small healthcare projects. The company liked what they saw in me and offered me a full-time position as a project engineer after graduation. That demonstrated to me their values—here I was, this 22-year-old kid, and they said, "Hey, let's help him out, and he can help us." They invested in me; I think it worked out well for all of us!
What is most inspiring, though, is what has stayed steadily true through all these years: our culture. Jerry envisioned a company that always did right by its people and encouraged and empowered them to do right by our clients and projects. I credit our roots in building high-end custom homes for instilling in our firm the importance of high-quality craftsmanship and standing behind your work—taking time to do things right and taking pride in what we create.
That ideal is still the foundation of everything we do. Every member of our team lives our Values every day. Each person, and their family, is an integral and invaluable component of our ability to do what we do: we build facilities and partnerships that strengthen the health of our community. Many of us, like me, have spent our whole career here; the collective expertise of our organization drives us to the quality and thoroughness for which we are known.
Like the firm invested in me back in 1998, we continue to invest in finding the best people interested in construction and mentoring them, giving them meaningful opportunities to gain experience and succeed, and seeing them thrive, to everyone's benefit. John and I are all intentional in making sure that we have time to support and mentor our teams; the more that our teams see us as approachable resources and not too busy, unavailable execs, the better.
Envisioning the Future
It is thrilling to imagine what our next 50 years will be, starting with 2022. As we celebrate our 50th anniversary, we are creating occasions throughout the entire year to both reflect on our past achievements and envision what the future will hold. We are excited to share our stories of innovations, our projects, and our people, and how we express our gratitude by giving back to our community. 2022 is poised to be far and beyond our planned expectations in terms of fulfilling work, confidence in our approaches, and our investments in technology that keep us more connected to our projects and each other and make our project management more efficient. Be sure to visit our website often to see what we're sharing!
As everyone is thinking about the coming year, and amid the change, growth, and prospects in store for us as a firm, I want people to focus on their relationships—not just with clients and colleagues, but with everyone. We haven't been interacting in person for a long time, and maybe taken for granted what it means to really connect on a human level. As we have more chances for "normal" interactions, I want us all to think about the whole person in front of us. Remember that everyone has challenges and that every day, we can help people solve their problems. Even when we're busy, I want everyone to strive to keep that in perspective. It is part of who we are.
May your reflections and visions for 2022 be as exciting as ours. Happy New Year to you, and happy 50th Anniversary to Aldrich!
George Ward, President