Highest Quality Healthcare Facilities for Vets + Pets!
Leveraging Relationships and Communication to Safely Deliver Veterinary Clinics in Occupied Environments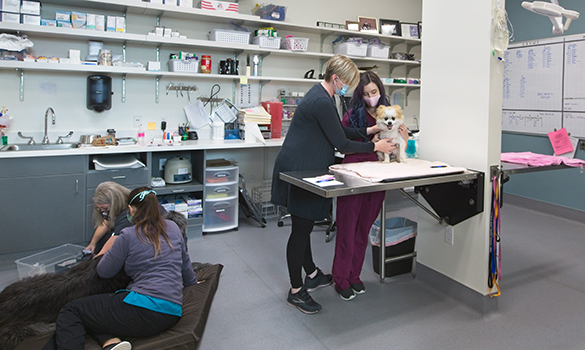 Aldrich is dedicated to serving health and science projects in the Pacific Northwest. That includes highest quality construction for facilities that serve our furry friends as well! Particularly in recent years, hospitals for humans weren't the only medical providers adapting to changing landscape of care in the wake of the COVID-19 pandemic. Veterinary hospitals have also navigated these challenges while continuing to improve care for our four-legged (or winged!) family members.
Aldrich has supported multiple veterinary projects over the years, including two recent projects for Summit Veterinary Referral Center in Tacoma, WA, and NVA Northpointe Animal Hospital in Lynnwood, WA.
Pivoting to Better Serve Pets during the Pandemic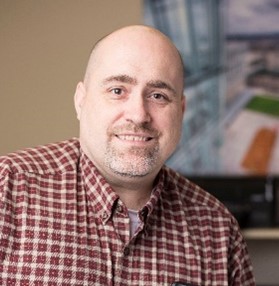 In 2020, Summit Veterinary Referral Center in Tacoma took on a significant expansion project with new imaging equipment and ICU capabilities. Aldrich helped them add 31,980-SF of new space without downtime to the existing hospital. Project manager Dave Gray worked in close collaboration with Summit's operations manager and the architectural team to propose and discuss scenarios for tackling specific design or building challenges. Through clear communication and well-prepared ideas, Dave and the project team devised a concise yet detailed plan to minimize disruption and maintain ongoing operations.
One such change was the addition of new equipment about halfway through the project that required modifications to the building that had to be implemented quickly in order to accommodate the arrival and installation of the equipment. Our team worked efficiently to coordinate changes that enabled new equipment to be brought into the building while continuing the MRI install and ICU area buildout.
"Thank you all for all of your hard work throughout this project. I am so happy with the outcome and the team that got us here." —Sarah Gillings, DVM, Oncology + Medical Director, Summit Veterinary Referral Center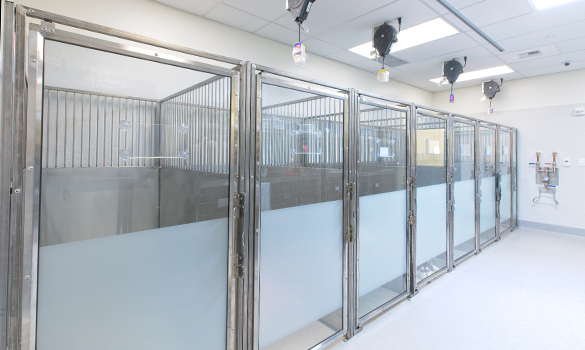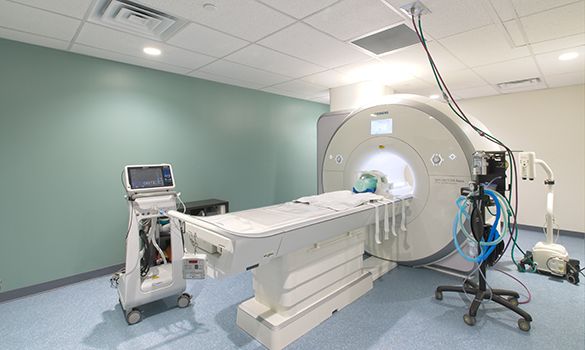 The Importance of Clear Communication + Building Relationships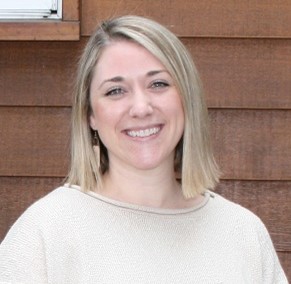 Led by project manager Marijane Daumen, the two-phase tenant improvement project at Northpointe Animal Hospital in Lynnwood, completed in August 2021, included gutting an existing pet store and putting in a new animal hospital with a new kitchen, offices, surgery suite, and other support spaces. In phase two, the project team renovated the active animal hospital while it remained in operation. We removed the dental suite and an old exam room to add two new exam rooms.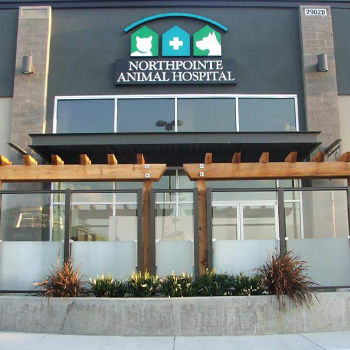 In an empty facility, this might have been a simple renovation; in an active hospital where animal surgeries and other procedures were ongoing during construction, our cohesive and highly communicative partnership, as a team and with the hospital manager, from the earliest stages of the project was a critical component of project success.
"Marijane with her exceptional mind and intellect, and [superintendent] Andrew Murphy with his solid pragmatism and quick thinking problem-solving skills make Aldrich an exceptional firm," said NVA Northpointe Animal Hospital Manager Baseema Krkoska, adding "Andrew was superb and our communication was excellent. We talked every day about how we are progressing, anticipating the issues down the road, and preparing ahead. I hope I get to work with him again."
Construction projects, whether it be for people or animals, bring together experts in their various fields to deliver all the many different aspects that a building entails. It takes a lot of moving parts, pieces, and people to build a building, and to balance all the different aspects that reflect in project success—aesthetics, logistics, technical accuracy, and financials.
A key element of successful projects is bridging our different understandings through clear communication. Often in construction, we are working with clients who don't know a lot about construction and don't really have any idea how our work will affect their environment. For example, the hospital manager may not know how the smell of paint or the sound from our machines will affect the animals. This is why having a close relationship is important, so we can work through these unknowns together and pivot quickly if we need to.
"This was the first construction project of my life. Most of the time, I had trouble with jargon," said Krkoska, "But Marijane was simply outstanding in her ability to think through the maze... her Gantt chart and project charting and management skills. Respect."