Matt Perhatch AGC Superintendent of the Year
Matt Perhatch named AGC Build Washington 2022 Superintendent of the Year!!!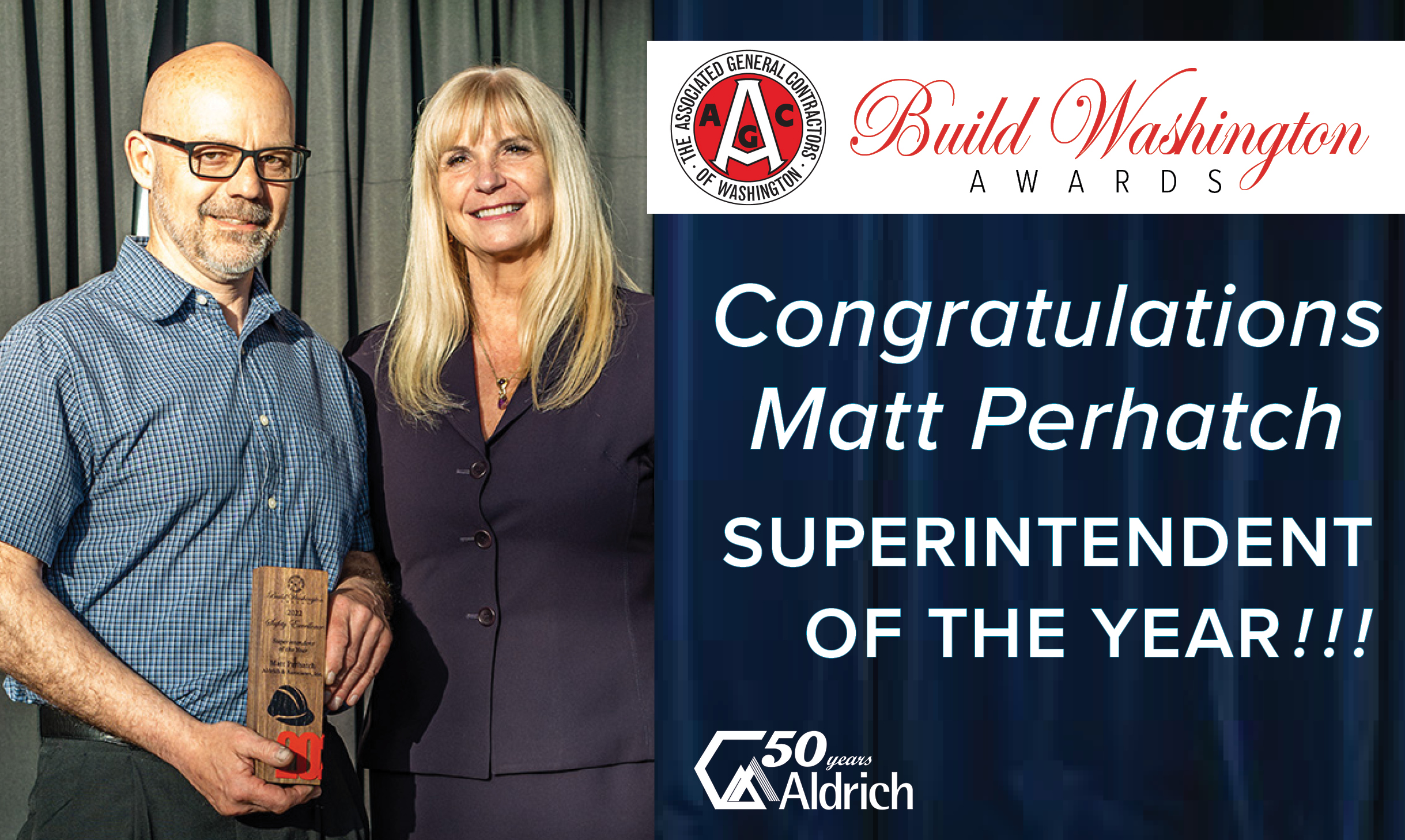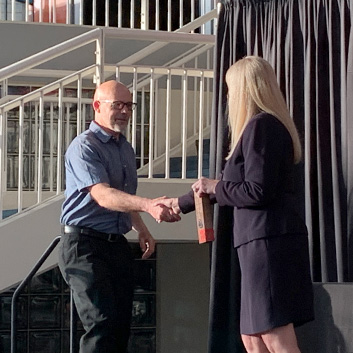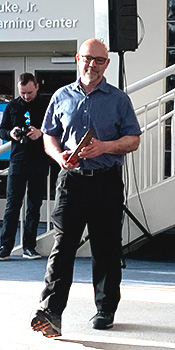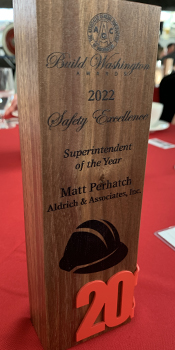 We are pleased to announce that our very own Matt Perhatch is the 2022 AGC Build Washington Safety Excellence Awards SUPERINTENDENT OF THE YEAR! Matt has been at the heart of what safety means at Aldrich since he joined the organization in 2004. Leveraging his 35 years of hands-on construction industry experience, Matt spent a decade as a superintendent managing some of Aldrich's most complex healthcare projects. Since his promotion to General Superintendent and Safety Officer in 2017, Aldrich's safety records have continued to improve.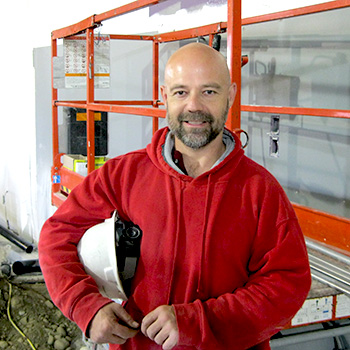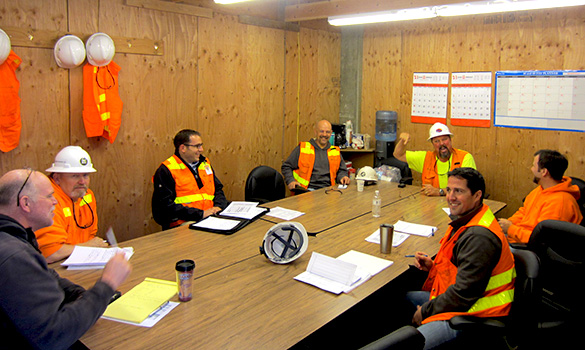 Matt's been a key member of the Aldrich A+ team for nearly 20 years and has supported some of our most significant projects. Left: (2011) Matt was Superintendent for the Seattle Children's Hospital (SCH) Sleep Center and Behavioral Health Clinic at Overlake Medical Tower. Right: (2012) Construction team meeting at Franciscan Medical Building at St Joseph Medical Center.
Guiding Corporate Safety:
Matt has been instrumental in reimagining Aldrich's corporate safety program over the past five years. Under Matt's leadership, our Washington Department of Labor and Industries experience modification rating (EMR) has been consistently trending downward from 2019 to 2022 and is currently the lowest it's been for Aldrich in more than a decade. With Matt's guidance and company investments, Aldrich has improved its safety protocols and overall performance. Our safety record speaks volumes relative to the success of enacting these practices. Working in complex and challenging occupied healthcare environments, Aldrich has had zero OSHA 300 time lost for three years in a row in 2019, 2020, and 2021.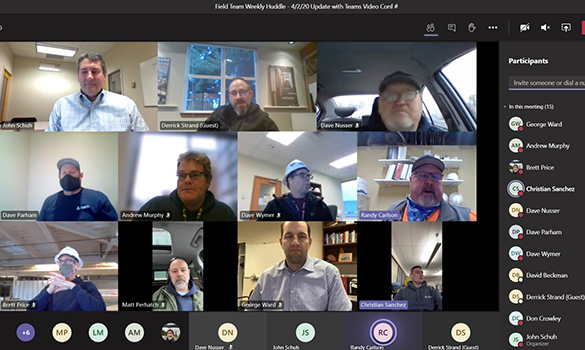 (2020) Matt and Vice President John Schuh lead our weekly Superintendent huddles.
Safety Innovations:
In addition to championing new programs and protocols, Matt has shown a real knack for safety ingenuity. He built an "infection control lab" to test and improve the construction of new infection control barriers and openings. His research and developments have led to highly efficient, cost-effective, and high-quality barriers, and we have proudly implemented these innovative ICRA barriers using temporary sliding 'barn doors' on several of our job sites. This method has helped save space and avoid incidents typically associated with traditional swinging doors. It has also enabled us to incorporate negative air pressure systems to protect adjacent occupied spaces from construction activities and debris.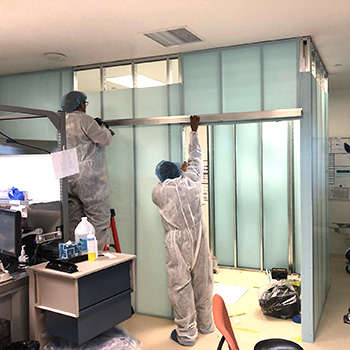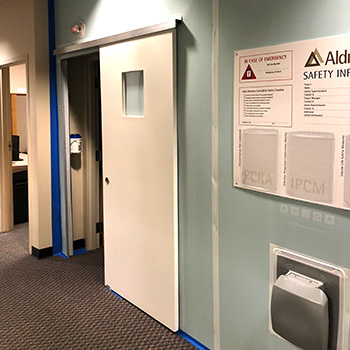 Left: (2020) Matt was the genius behind our innovative barndoor infection control barrier system being installed at the SCH Bellevue OR #4 project. Right: (2020) Matt installed a mock-up of the barrier system at the main office for the EvergreenHealth's Family Maternity Center project, which is currently under construction.
Matt's creativity also supported us through COVID-19 protocols. Matt designed and fabricated an economical, portable, potable-water sink unit to allow for regular handwashing during construction activities within occupied facilities. His innovative design was produced at a fraction of the cost of those sold on the market by other local contractors and has proven so effective, that they are now used at almost all of Aldrich's jobsites.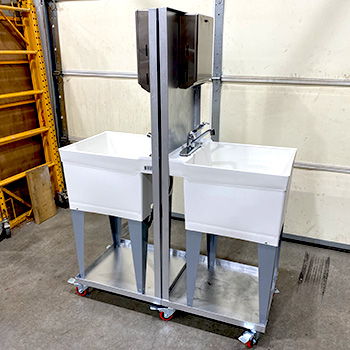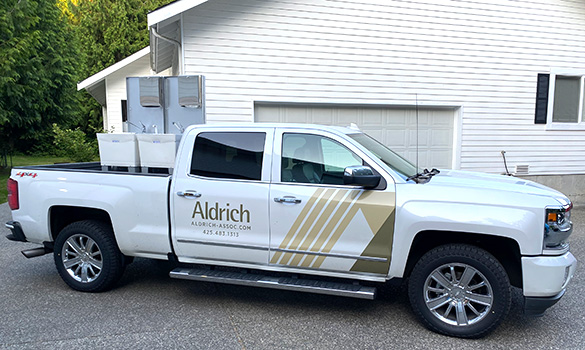 (2020) Built out of necessity during the early months of the Covid-19 pandemic, Matt designed, fabricated, and delivered cost-effective, portable, potable-water sinks to our jobsites.
All-in, All the Time
When Matt isn't busy innovating effective safety tools or implementing new programs, you'll find him walking job sites and spending time with the project team as well as the public. Matt makes himself available to facility staff and project teams at all hours to assist in resolving issues during off-hours and visits each project once a week or more. Matt offers himself up in support of each Aldrich project team, lending a hand, and helping teams identify and implement creative solutions to construction challenges.
Even when not on-site or working with teams in person, Matt strives to spread and reinforce Aldrich's values and prioritization of safety. He helped create Aldrich's A+ Approach to Quality and recently wrote a letter to his colleagues and industry peers celebrating Construction Safety Week.
In every way, Matt embodies our A+ Values and demonstrates leadership, teamwork, and unwavering support for safety in our industry.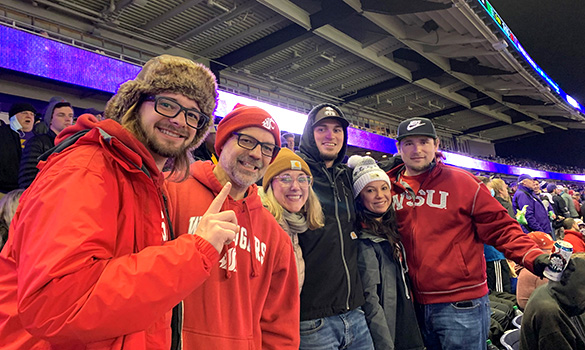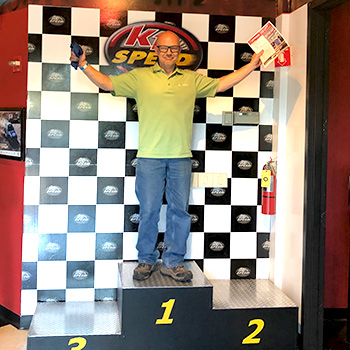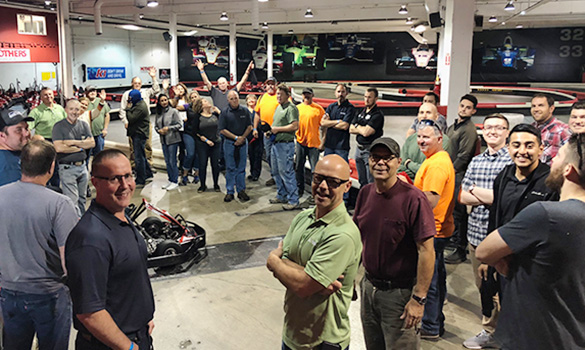 Above: (2021) A family man first and foremost, Matt and his son, joined project manager Marijane Daumen and friends at Applecup. Below: (2018) Matt and A+ Team at K1 Speed.
Matt has a winning attitude, he is driven to succeed, and his ALL-IN attitude has been instrumental in developing our cohesive company culture. His colleagues recognize this about him:
"I'm so happy for Matt Perhatch to get recognized for his efforts and amazing talent. Aldrich is very fortunate to have Matt leading our safety and field teams. He's incredibly positive, dedicated, and creative when it comes to solving construction industry challenges that we all face. We are blessed to have Matt on the Aldrich Team." ―Vice President John Schuh
"Matt has been both a calming and resolution-oriented influence on some of my more challenging projects. He has the intuitive, instinctive ability to rally a group of people around a common goal that aligns with a high level of quality control, but also the correct path forward to meet the entire project team's needs. He is a true leader, and the epitome of what Aldrich stands for." ―Matthew Schultz, Project Manager
"I had the privilege of submitting Matt for this award to the AGC and feel lucky to have been at the awards ceremony for Matt to receive this much-deserved honor and I am thrilled for him!" ―Marketing Coordinator, Lara McNulty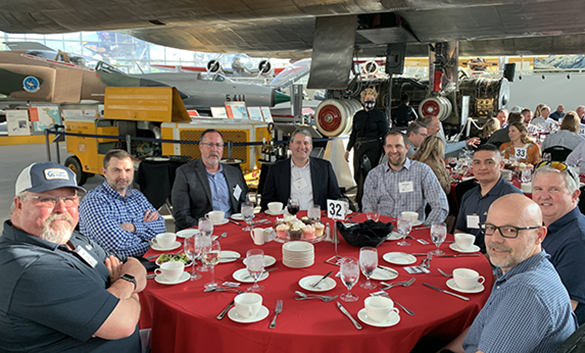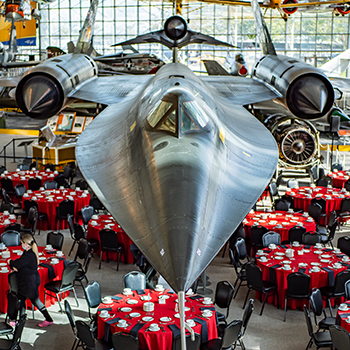 Left to Right: (2022) Round the table at the AGC Build Washington Awards at the Museum of Flight were Superintendent Randy Carlson, Lead Estimator Nate Jensen, CFO Brett Lantz, VP John Schuh, President George Ward, Superintendent Christian Sanchez, Superintendent Chris Stearns, and Superintendent of the Year Matt Perhatch (photo taken by Lara McNulty.)
We're all incredibly proud of Matt and honored that the Washington construction community recognizes his commitment and achievement. We count ourselves lucky every day to have such a passionate and dedicated General Superintendent and Safety Officer. Congratulations, Matt, and thank you!