Creating a Lifecycle of Care Through Research + Laboratory Construction
Always looking to the future, Aldrich has been invested in the delivery of medical + science facilities for decades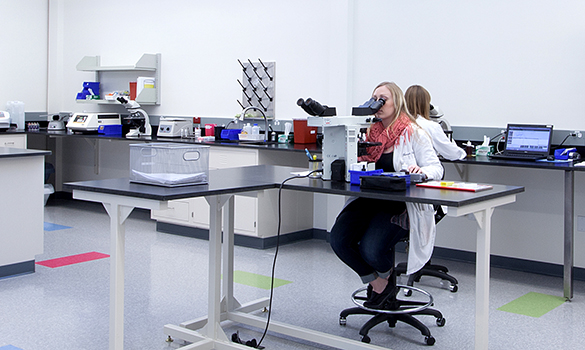 It's no secret that Aldrich is a health and sciences contractor; we've proudly dedicated our efforts to this sector. What may be surprising is just how much project diversity exists in the Pacific Northwest. Washington's top-quality hospitals and medical institutions provide care at all levels and a robust and growing healthcare research and development market. From biopharma to cancer research, our region supports the full continuum of care, and Aldrich is a partner in construction for this complete lifecycle. While research and lab facilities are distinct from healthcare environments in many ways, many of our specialized methods and approaches, from early project planning through construction execution, translate well across these project types.
Similar But Different
Hospitals, medical office buildings, veterinary clinics, and research labs have vastly different functions with lots of different types of equipment and processes. However, common to all is that each of them are critical environments where sterility and system reliability are crucial components of safety and operational effectiveness. How we plan and execute construction in these types of environments is quite similar.
Whether in the research environment where medical advancements evolve or in hospitals where they are enhancing care, specialty systems require our deep understanding and a tailored construction approach.
In each case, we focus on understanding and meeting the specific functional requirements of each space, including infection control/isolation requirements, processes, and specialty equipment. As no environment is exactly alike, we take nothing for granted and use our broad array of experience to ask the right questions, the answers to which enable us to put in place the right construction approaches, from how we budget and estimate, to how work is phased in occupied environments to how we support future flexibility and adaptability in both facility environments and lab operations.
Unique Considerations in Early Project Planning
Early communication is a key part of every project, especially in science laboratory environments because of the unique and 'specialty' nature of so many environmental elements. From materials and equipment to the flexible use of space, it's important to ask the right questions at the right time. Filling in any information gaps is a key factor in creating accurate and reliable estimates at the earliest stage possible. This can be particularly important during early design phases to support a lab owner and their design team in making important decisions, such as those related to equipment densities that will affect utility infrastructure system decisions, and where supply chain disruptions and long-lead times for specialty equipment come into consideration.
Casework, lab gases, HVAC, and electrical requirements, to name a few, are all elements that have specialized requirements, and potentially be more costly, than standard systems. For example, a lab that requires more frequent air changes to support sterility and infection control needs specialty HVAC systems capable of 24/7 distribution and pressurization. Or a space with biosafety cabinets with caustic fumes will require specialty exhaust systems that have to be exhausted at roof level. Dense electrical and data connections, or 24/7 equipment operating requirements, can also significantly impact designs and budgets.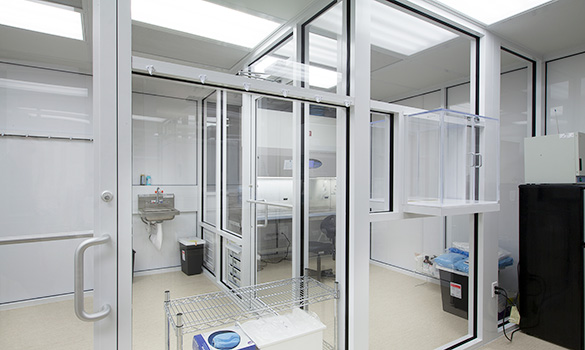 One of the challenges of the Kelley-Ross Compounding Pharmacy renovation project (shown above) was the exhaust of caustic fumes from the biosafety cabinet due to residential apartments above the medical office portion of the building.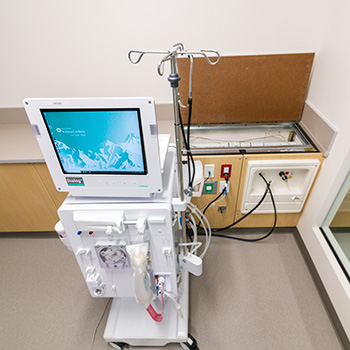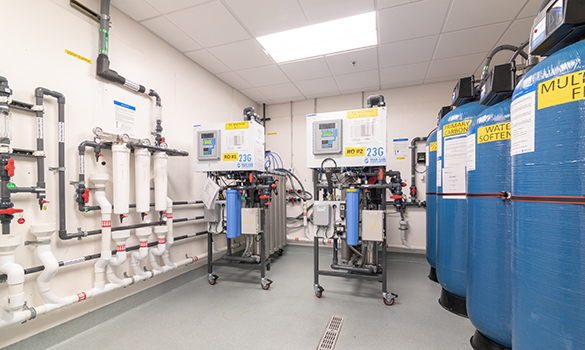 The chemicals for dialysis treatment are highly corrosive. For Northwest Kidney Centers projects, Aldrich developed an innovative way to ease access to these complex delivery systems for monitoring and repair/replacements. These specialty systems require early decision-making to ensure accurate budgeting and appropriate infrastructure systems are planned for the project.
Poma Fertility in Kirkland, for which we have supported a variety of upgrades over the past decade, is a prime example of a facility needing specialty considerations before any construction project. The clinic has both patient-facing spaces that require a balance of warm and welcoming aesthetics as well as clean and durable materials and back-of-house embryology labs that require high sterility and vibration mitigation. Located in a medical office building above a transit park and ride, we've helped navigate unique considerations to accommodate their sensitive lab environments, from air intake routing that brings in air from the roof to ensure no exhaust from buses gets into conducting vibration testing in the parking structure to ensure it doesn't impact their lab functions.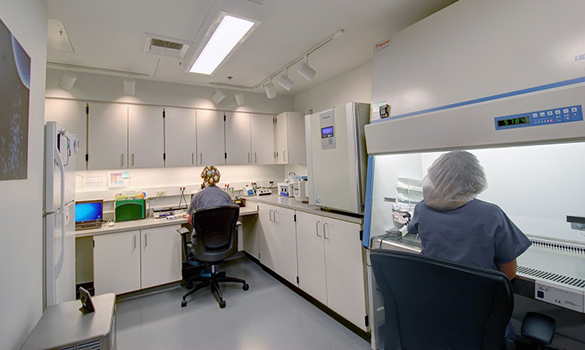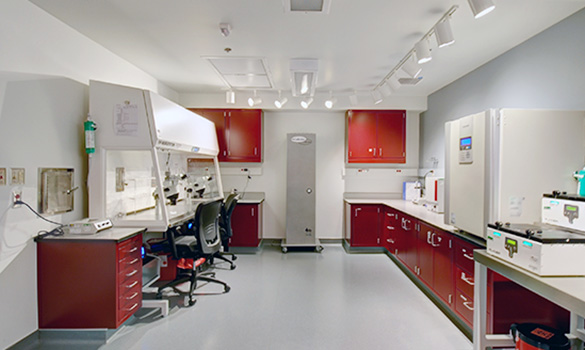 The Poma Fertility Clinic Andro renovations (shown above) required sensitive design and construction to support both clinical and patient-facing spaces in a unique location above a transit park and ride.
Planning for Adaptability
A particular trend we're seeing is a focus on creating highly flexible spaces as well as adapting existing spaces to support lab environments. Each scenario requires thinking differently. For example, we've seen several organizations reducing the number of administrative offices, thus increasing the real estate available for lab services, which in turn has systems implications to support more lab space.
Additionally, many developers are looking to convert typical commercial offices spaces to meet the growing demand for life sciences in the Puget Sound region, which means going back to a building's infrastructure systems to ensure they can support lab requirements, such as higher capacity mechanical, electrical, plumbing, and data systems, or ensuring there are enough deck penetrations to support the distribution of these utilities.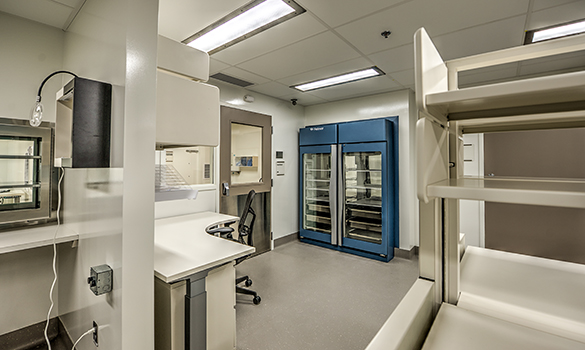 Seattle Children's Compounding Pharmacy (shown above) was constructed in an existing warehouse/office building in Bothell. This required significant upgrades to the building's mechanical and electrical systems to support the clean room. Building infrastructure assessments are a key element in understanding how an existing space can be modified to support a research environment.
We're also finding it useful to work directly with organizations looking for offices to help them evaluate potential spaces to make sure the building or suite can support their needs, or help them determine what modifications might be needed, and how costly those might be.
Construction Execution: Communication is Key
The early efforts in planning and design to ask the right questions, understand the implications of specialty systems and equipment and create accuracy and reliability in budgeting all get put to the test when construction execution begins. This is where all of our best practices and lessons learned in healthcare construction really come into play in research and lab environments.
The most important strategy is communication; the success of a project, especially in occupied environments, comes down to keeping facility operators and users informed and prepared for what construction entails, from understanding phasing to coordinating necessary utility shutdowns, to staying in constant contact to preserve often sensitive operations and experiments. Together, our teams work with lab managers and users to blend together an understanding of lab and construction workflows to collaboratively create environments that work both during and after construction.
For example, we worked with AGC Biologics in Bothell recently on an area of their lab with critical lab processes that couldn't tolerate any power interruptions for certain windows of time. Our team worked closely with the lab manager to coordinate any required shutdowns around lab schedules. With this ongoing communication, we successfully executed the project with no negative impacts on lab procedures.
The Cycle Continues
Working across all aspects of the health and sciences sector continues to be fresh and interesting to us because we get to see innovations come full circle. As research advances and emerges from the lab into the "real world", we see an influx of new technologies and equipment in healthcare environments that support more efficient and better care and technology. Being part of this evolution by bringing both research labs and healthcare facilities to life is truly a fulfilling experience.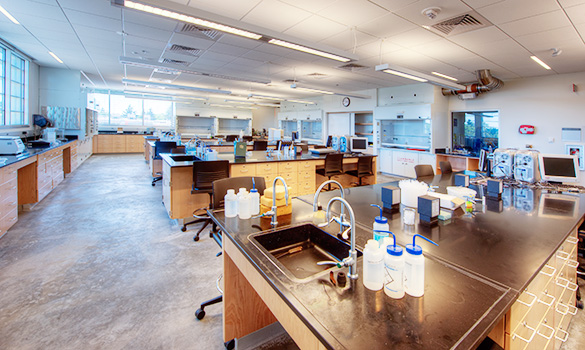 Aldrich has been invested in the delivery of medical and science facilities for decades. Pierce College Rainer Science and Technology Building completed in 2010 (shown above) was one of our earlier successes in science projects. In fact, it's highly probable that students who learned about science in this teaching laboratory are now our clients...or will be in the future!