Lead Carpenter Trever Gore Celebrates 25 Years!
Join us in congratulating Trever Gore as we celebrate his commitment and dedication to working for Aldrich for 25 years!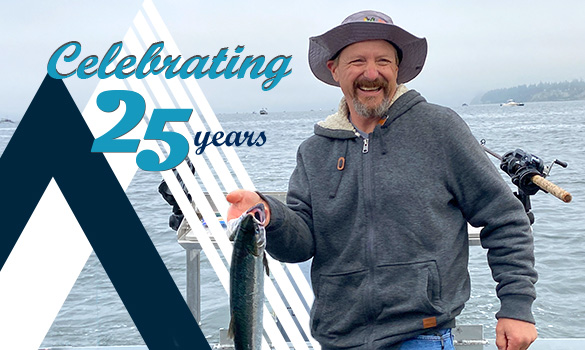 As Lead Carpenter and a valued member of the A+ Team, Trever has led our field crews on some of our most significant projects. A carpenter by trade since the mid-nineties, he is currently supporting Superintendent Brett Price at the Seattle Children's Hospital Luna Behavioral Health facility in Seattle. His more notable projects include the Pierce College Rainier Building in Lakewood, the Franciscan Medical Office Building and Parking Garage at St. Joseph in Tacoma, and the Seattle Children's South Clinic in Federal Way.
When asked about what it's like to work with Trever, Superintendent Brett Price had this to say, "Trever is one of the most reliable, knowledgeable, efficient craftsmen we have working for us. When a superintendent is getting ready to start a project, one of their first questions is usually 'will I get to have Trever on the job?'" A remark to which Superintendent Christian Sanchez added "…the answer is usually 'no, he's at Brett's job!'"
Superintendent Randy Carlson tells the story of how in the early days of Aldrich holiday parties, Trever was approached by a fellow team member who asked, 'what do you do for Aldrich?' Trever replied that he was a Carpenter and the project he was working on at that time. In turn, Trever asked the man, "So, what do you do?" That man was owner Jerry Aldrich. Randy kids with him about it to this day, "Trever was so embarrassed; we haven't seen him at a holiday party since!"
"What a pleasure it has been over the 25 years to have Trever on some of my crews for different buildings we have done. You knew when you gave him a task to do that it would always get done right. Never a job too tough for him," says Superintendent Dave Nusser. "I remember when we hired him as an apprentice 25 years ago. He has become a top-notch carpenter for Aldrich, and I am glad that he has been on our A+ team all these years!!!"
Trever hails from Tacoma where he and his wife Charlene raised their three kids. With his youngest being 16, they will soon be empty nesters. As you can tell from the photo, he is an outdoorsman, who likes fishing, golfing, and riding his motorcycle.