What A+ View From Up Here!
It was a week to remember at Northwest Kidney Centers Seattle Flagship Clinic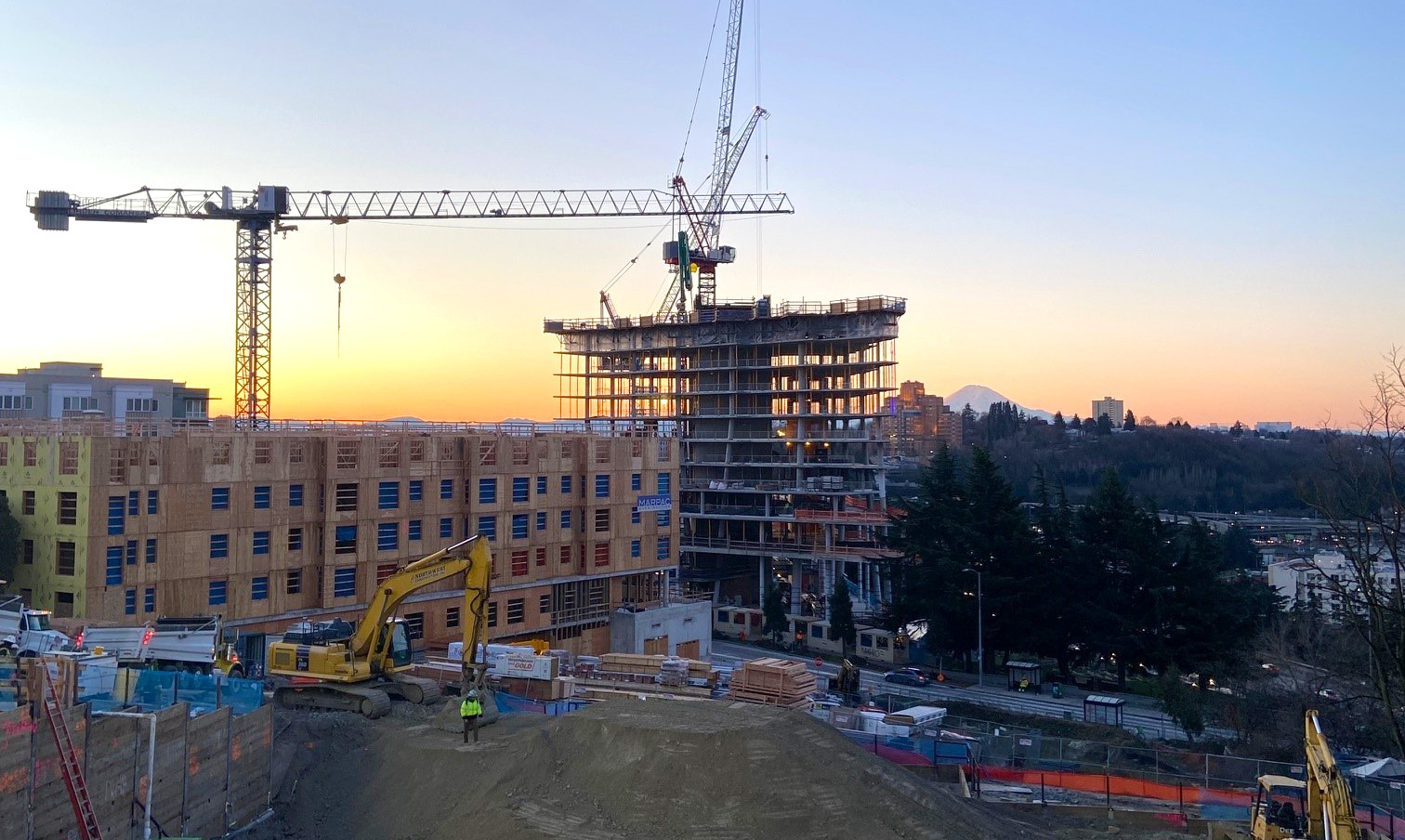 It was... "A week to remember for the teams. Dry weather helped us accomplish all our pours, close to 300 yards on the North half of the site," Superintendent Brett Price wrote in his Friday recap, "the teams killed it this week!"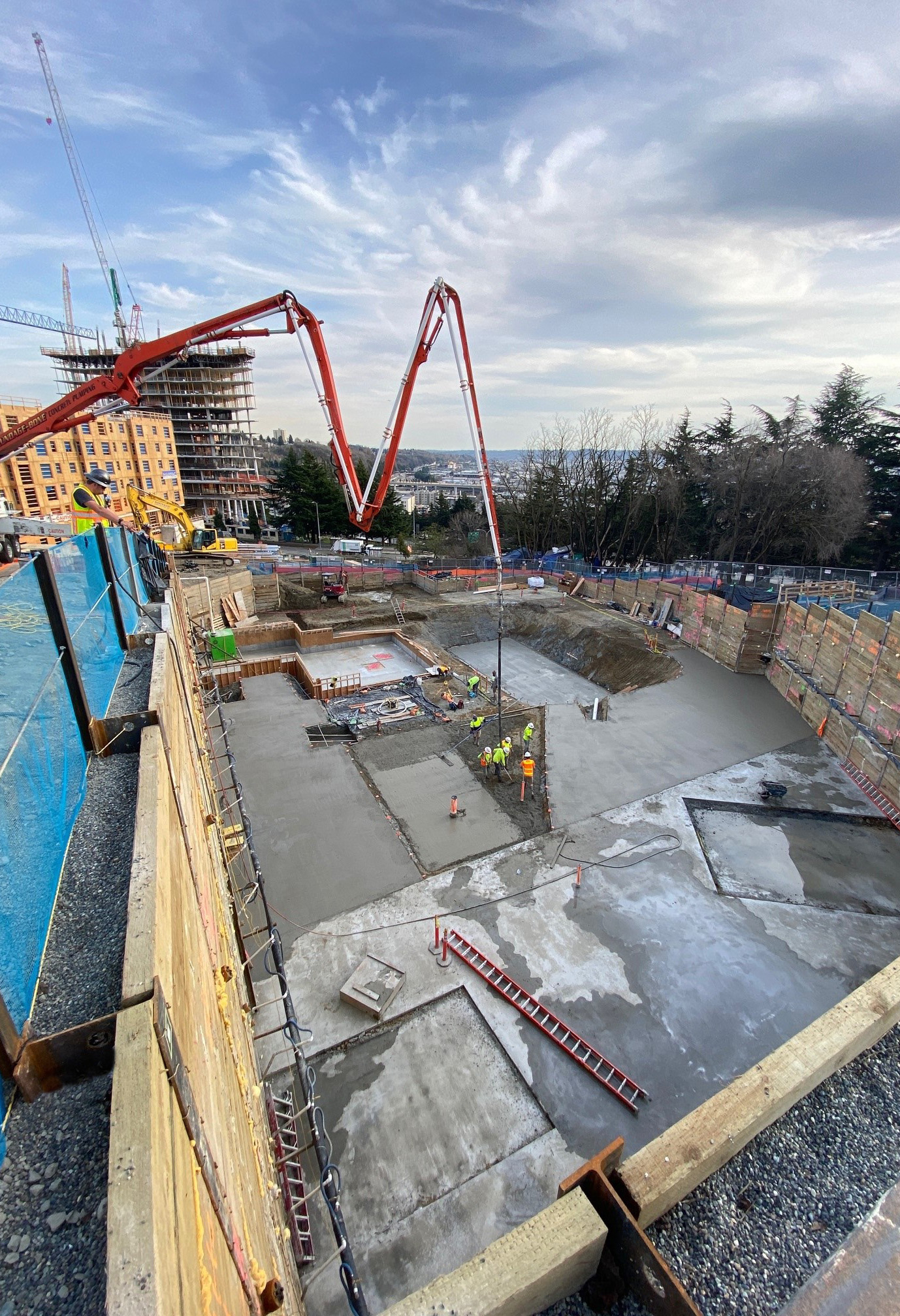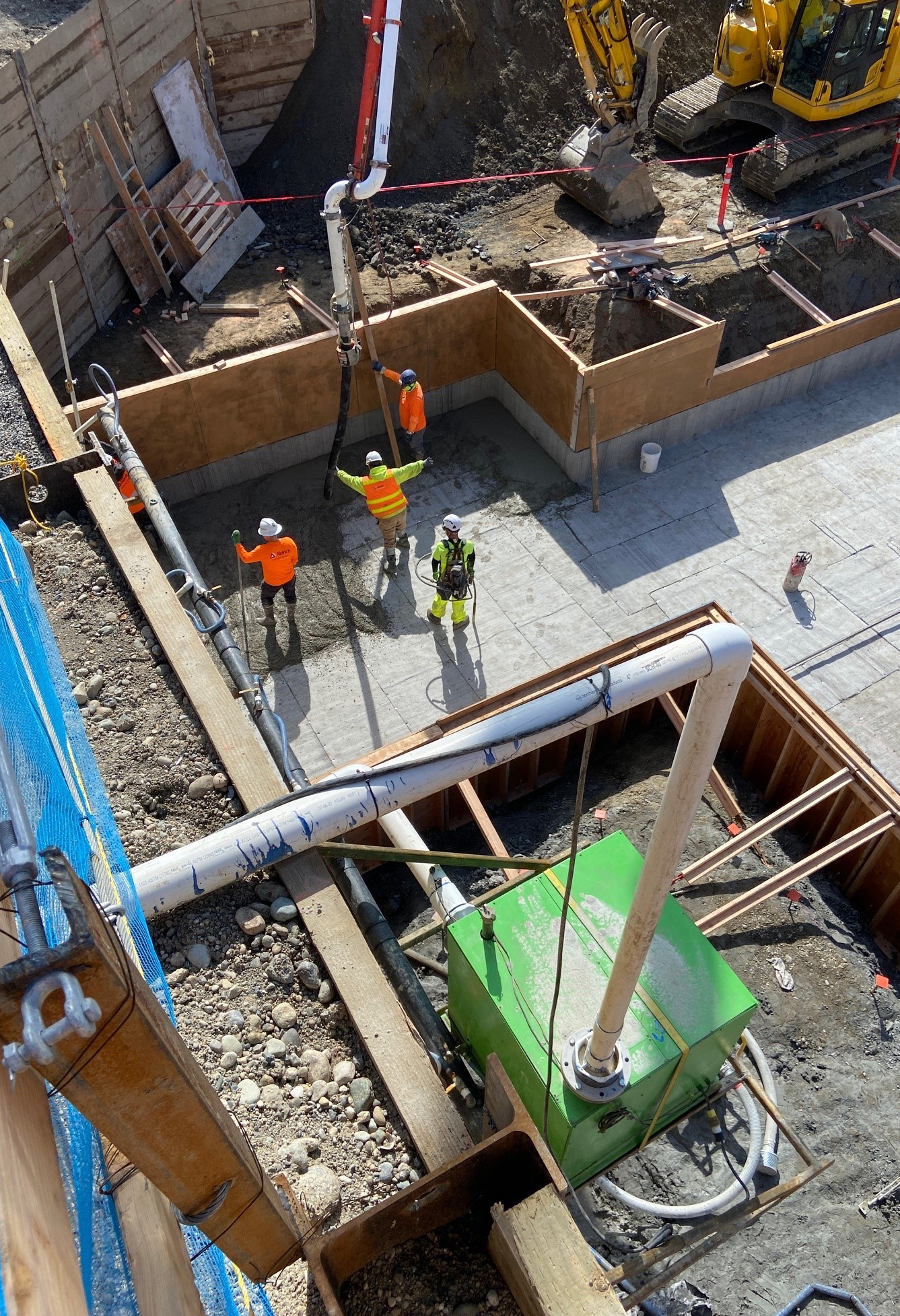 "We've seen an immense amount of growth (or shall we say depth) at the future site of Northwest Kidney Centers Seattle flagship clinic," said Project Engineer Madison Balcom, "The week of March 13th marked the end of excavation and simultaneous shoring and lagging activities with our first foundational concrete pours."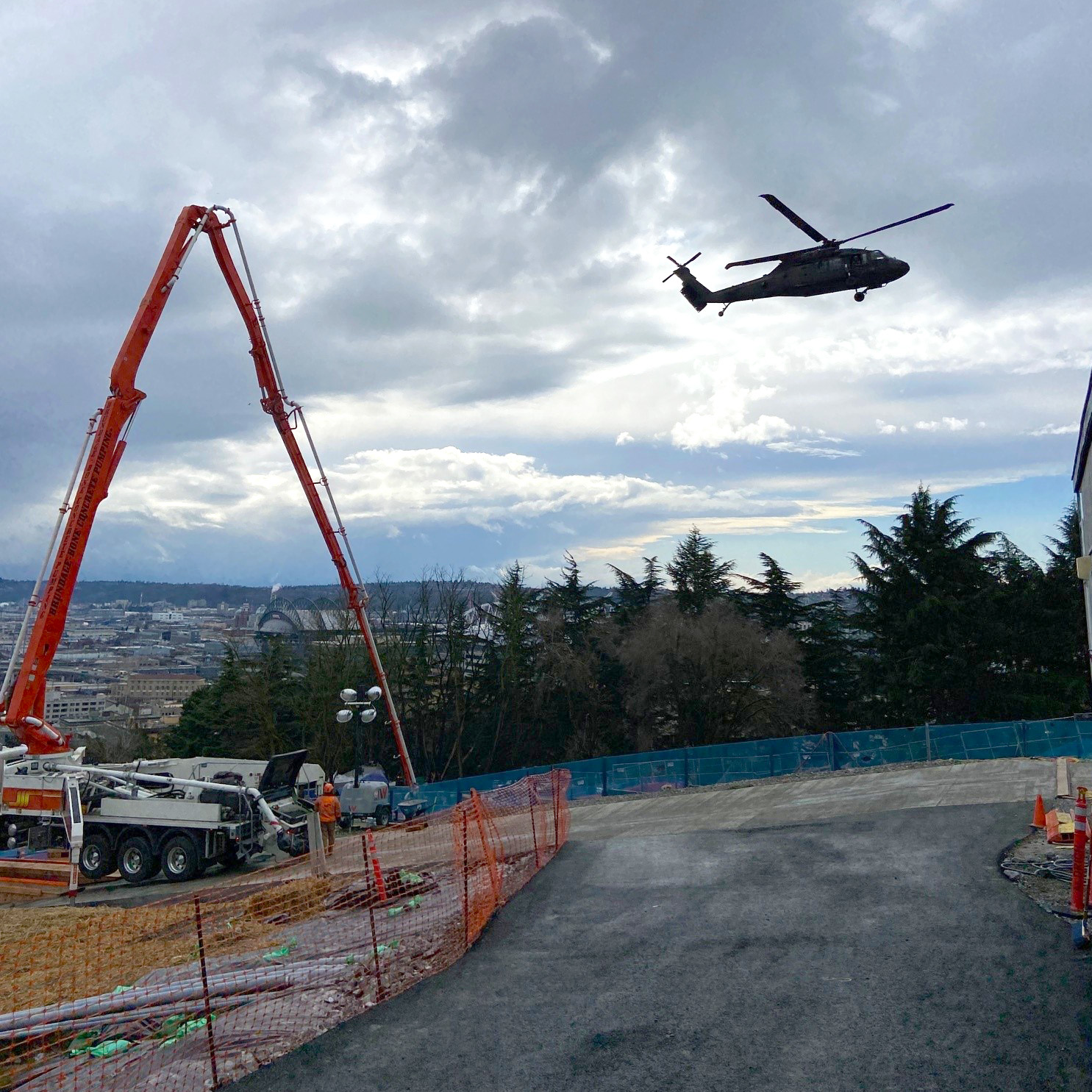 "Wow! Those pictures really illustrate the opportunities that the hill is presenting," remarked Development Manager Mishelle Oun of Spectrum Development Solutions. The project site located in the Yesler Terrace Neighborhood has seen its share of challenges from digging into the side of the hill adjacent to I5 and reaching the water table to the frequent air traffic from the neighboring hospital's helipad. While awe-inspiring to see them up close, regular training touchdowns of Black Hawk helicopters with their flight path directly over construction can be a risk to boots on the ground.
"Brett is always reframing the challenges and difficulties of this site as opportunities for creative problem solving," Mishelle wrote, "If you really want to quote me… Brett and the team are kicking major (rhymes with grass)!" We're keeping it PG for our story, but you get the gist, and we agree wholeheartedly, Mishelle!
Our teams must remain diligent in keeping construction crews attentive and safe. "Crews are doing amazing work building on a 45' angle next to a helipad," said Brett Price. "Logistics challenges on a complex site like this require constant conversations. Our teams need to take a step back and look at safety from a different lens than they might be used to," said Price, "a push to get to the end of the project can create complacency, and we have to stay focused because mistakes could be devastating."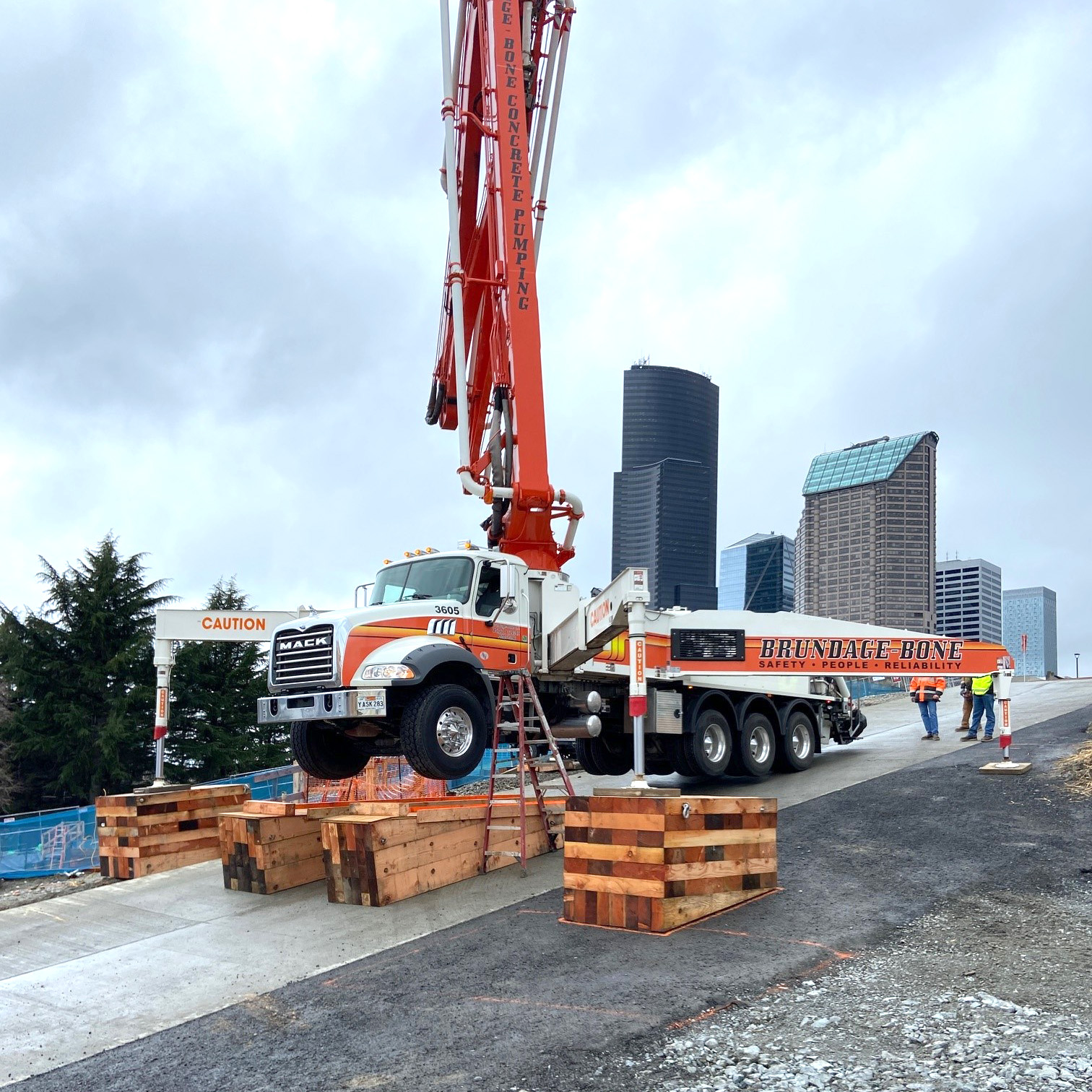 With ingenuity and good old-fashioned grit, the crew successfully mitigated water away from the site. To compensate for the steep grade the project team engineered substantial five-foot-tall blocks with three-foot ramps to level and support the pump truck during concrete pours.
As an additional resource and outside perspective, Aldrich has hired a 3rd party, Integrity Safety, to do periodic safety walks and point out safety risks we should consider for projects of this magnitude. We are also bringing in an L&I tower crane specialist as a consultant to conduct risk assessments and help us better understand potential hazards.
Now that we've reached this milestone, it's all upward from here! "We're making our way back up out of the ground," says Project Engineer Madison Balcom "and the team is eager to successfully erect the crane on April 8, and the North mat concrete pour will follow."