2023 Marks 25 Years at Aldrich for George Ward
Aldrich President George Ward Reaches a Significant Milestone in his Career—25 years with Aldrich + Associates!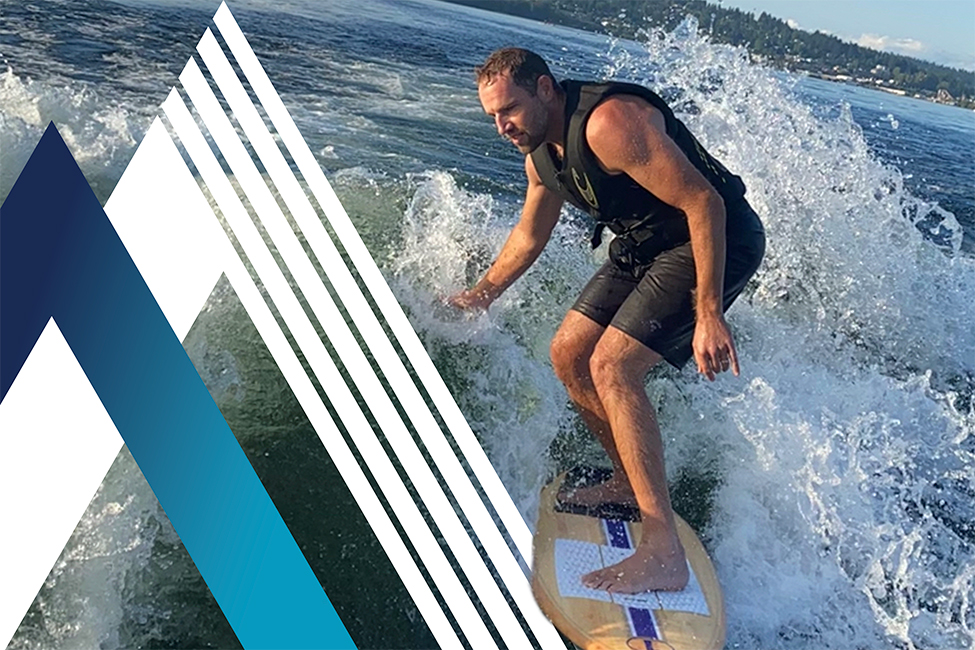 A+ Team All the Way!
From intern to project engineer to project manager and now President, George has dedicated his career to Aldrich.
George began in the industry as a draftsman and laborer until he joined Aldrich in June of 1998. "Between my junior and senior year at UW in the Construction Management program, I had procrastinated on securing my summer internship as I had little interest in working for a large contractor. Two weeks before spring quarter ended, I got a last-minute opportunity for a summer internship with Aldrich—I was interviewed by John Schuh, my current partner, in the same room that is my office today," said George "That first summer, I worked on a variety of projects including a custom home, a public elementary school, and a few small healthcare projects. The company liked what they saw in me and offered me a full-time position as a project engineer after graduation. This was during a very robust construction market before the dot-com bubble and I could have pursued more lucrative offers across the country, but I'm so glad I accepted the offer with Aldrich. The company has invested in me, and I try to continue this philosophy to invest in our team and make Aldrich a better place than when I started."
"I wish everyone could have met the intern, George, 25 years ago," wrote VP of Operations, John Schuh. "His year-after-year transformation into now leading our organization can only be defined as incredible. I've never met a person who is so driven to improve daily and yet his motivation style is creative, compassionate, and subtle. He makes everyone around him better without alienating team members. His vision is crystal clear, and he can accomplish more in one day than most accomplish two or three days without sacrificing his family and health. He is a true inspiration and I'm blessed to have him as a business partner, mentor, and friend."

Expert-Level Businessman + Leader
In addition to providing corporate leadership as President, George leads Aldrich's business development efforts, helping the organization grow and develop as a leading healthcare contractor in the Pacific Northwest.
"George Ward is the rare combination of an exceptional human being, savvy businessperson, and community leader. I've enjoyed working with him over the past decade, partnering on pursuits, programs, and projects. Being a part of Aldrich's success has really been a highlight of our work at CRNW because George brings out the best in his team and mine."—Meg Winch, President, Communication Resources Northwest.
"As an owner, I appreciate George's professional and client-first approach to projects. His ability to find alternate approaches to resolving potential conflicts is uncanny, and he sets the tone for the rest of the Aldrich team. George has effectively established and enhanced their company's high level of client service by building a collaborative culture on every project."—Chris Kreifels, Assoc. DBIA, Project Manager II, Planning Design + Construction, CommonSpirit Health.
"George is one of the most influentially calming presences at Aldrich," says Project Manager Matthew Schultz. "I am positive that his leadership has resulted in our talent retention and is a tribute to his confidence in our teams. His ability to listen, trust, and advise the project management team has been truly invaluable to this company's growth. I am thankful for his mentorship and for making me a stronger, more client-driven manager."
Family First

George's wife Gegi shared her thoughts about George's 25 years at Aldrich. "Wow! George is a very impressive man. We became parents very young, and he has always been committed and determined to give our family and his work his best." The couple raised their three children over George's tenure and their eldest son Tyler (baby photo), and daughters Jamesen and Marie have all worked at Aldrich too.
"George and the other partners are growing and shaping this company into a place that everyone is proud to be a part of…including all the spouses and families! I am incredibly thankful he has worked for such a supportive company, and I cannot wait to see where he takes Aldrich next."–Gegi Ward
For the Health of Our Community
Outside of work, George has deep roots in the Seattle area and is a proud UW Alum. He is an active member of his community, serves on the board of directors for Seattle's Union Gospel Mission, and shares his love of skiing, golf, and soccer with his friends and family. He's also an active participant in Fred Hutch's annual Obliteride fundraiser as co-captain of the LFP Cancer Crushers team!

George and the Aldrich leadership team are always looking for new ways to engage with the A+ Team, which makes working at Aldrich an enjoyable, gratifying experience for its employees. From Go Karting and bowling to fishing and skiing excursions, to sporting events and golf, and community outreach opportunities like the Seattle Children's Sheridan's Guild 5K and supporting Color Me Important the list of camaraderie-building and community engagement activities is extensive and growing!
"George tried to teach me how to [snow] ski once," recalled Matthew Schultz. "'Tiny turns, tiny turns,' he emphasized as I fell down the mountain. Teaching a Texan to ski was difficult. George just said, 'Well that was interesting. Maybe it's time to hit the daisy hill a few times."

A+ Focus on Relationships
George is a positive presence for Aldrich employees and business partners alike and we couldn't be happier to have him lead our teams.
George believes in the company's founding values of relationships and treating people right. "I want people to focus on their relationships—not just with clients and colleagues, but with everyone. I want us all to think about the whole person in front of us. Remember that everyone has challenges and that every day, we can help people solve their problems. Even when we're busy, I want everyone to strive to keep that in perspective. It is part of who we are."
"George is a trusted partner, valued client, and a friend to me and my team. He's been a force in healthcare construction in our region, and under his leadership, I see a positive future for the Aldrich team and the professionals who benefit from George's mentorship."—Meg Winch, President, Communication Resources Northwest.
"From day one I have always been impressed by how George speaks both one-on-one and in groups," Brent Kohrs, Project Manager, reflects. "Every word is carefully calculated, thoughtful, and intentional. The time he takes to be available to listen is also admirable. I truly feel like I can come to him with anything and that his advice will always be wise and true," said Brent. "It is also interesting to see how he seems to come out of his shell when it comes to sharing with prospective clients what it is that we do. He is very adept at 'working the room' and almost comes across as 'bubbly' at times. I admire him and it is a pleasure to work for him."
"George is a mad genius when it comes to his visionary leadership and business acumen. At first, he can seem so serious, especially when it comes to work. He totally gets into his spreadsheets and analytics, which for most of us, let's be honest, isn't all that exciting. So, when he breaks that serious façade with his witty humor, cracks a smile, and laughs, it's infectious," said Lara Taber. "George has a gift for seeing potential in people and prides himself on mentoring individuals in not only achieving but exceeding their goals. I've accomplished more in the last few years with Aldrich than I could have ever imagined, and it's all thanks to George's constant guidance and support."

Creating A+ Legacy to Be Proud Of
George, you truly embody all of Aldrich's core values. You have been instrumental in building Aldrich into a well-respected industry-leading construction firm, and we are grateful to have you at the helm along with our incredible leadership team. You are a class act and a great leader, and we thank you for 25 years!
Read more from George: