Aldrich Featured in DJC Healthcare/Biotech Edition
What it takes to build health + science projects
Featured in the DJC's most recently published Healthcare and Biotech special section, Aldrich President, George Ward, shares what makes
our company unique!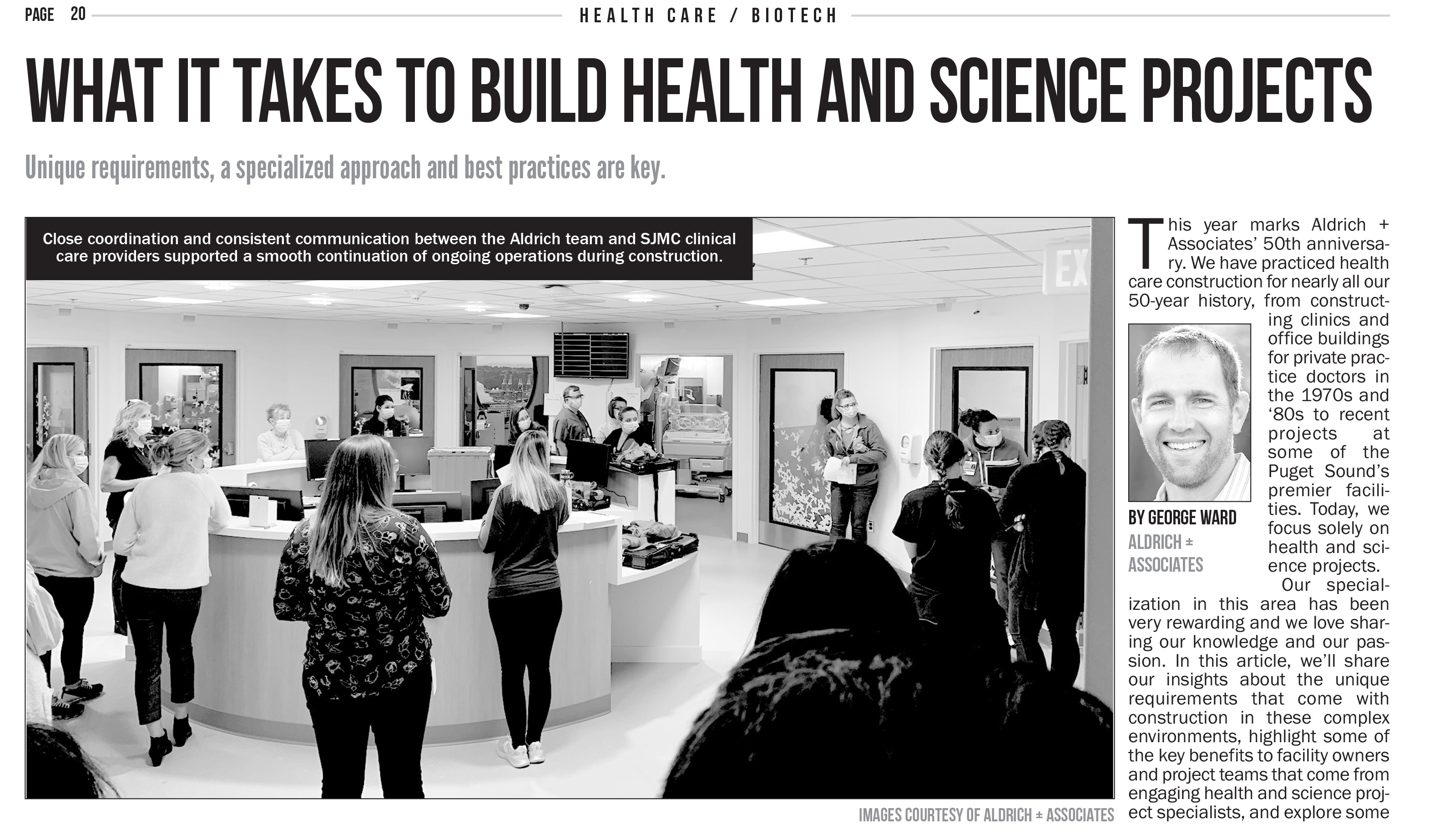 Read our article in full below or click this link to open the DJC's Healthcare and Biotech issue to read George's article starting on page 20.
Unique Requirements, a Specialized Approach + Best Practices are Key
This year marks Aldrich + Associates' 50th anniversary. We have practiced healthcare construction for nearly all our 50-year history, from constructing clinics and office buildings for private practice doctors in the 70s and 80s to recent projects at some of Puget Sound's premier facilities. Today, we focus solely on health and science projects.
Our specialization in this area has been very rewarding and we love sharing our knowledge and our passion. In this article, we'll share our insights about the unique requirements that come with construction in these complex environments, highlight some of the key benefits to facility owners and project teams that come from engaging health and science project specialists and explore some of the trends and best practices we're seeing in project delivery.
Unique Requirements
Nimble and Flexible: Working in a patient care area or active laboratory often comes with strict requirements for noise and vibration control with access restrictions that can change due to operational circumstances. The ability to quickly shift focus and resources is a key factor to staying productive and moving a project forward without impacting care, especially in perioperative and critical care environments, where change can happen at a moment's notice.
For example, in our work on CHI Franciscan St. Joseph Medical Center's Neonatal Intensive Care Unit, we coordinated down-to-the-minute plans with nursing staff to ensure safety for these vulnerable patients. This sometimes involved running to an adjacent floor to make sure nurses could put earmuffs on neonates prior to drilling and, providing phone numbers so nurses could immediately reach our project leads if a baby's condition changed or there was an unexpected delivery. When NICU staff needed quiet or a hallway cleared immediately, our team was there to get it done.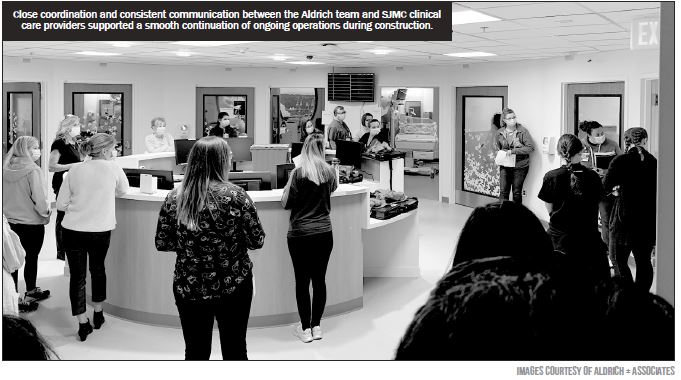 Extensive Communication: Another key requirement, especially in occupied healthcare environments, is making sure all staff fully understand the nature and implications of upcoming work. One tool we use to support ongoing communication is an activity-specific method-of-procedure document that includes visuals of affected/unaffected areas and down-to-the-hour scope detail, required safety precautions, and infection control measures.
Other strategies we use include simplified color-coded phasing plans with dates and marking the location of temporary walls with blue tape on the floor well in advance of construction activities so staff can familiarize themselves with the new traffic patterns. Daily huddle meetings with healthcare providers and weekly recap emails with progress photos and details about upcoming tasks/deliveries are all part of Aldrich's commitment to keeping everyone involved in the project well-informed.
Specialized Approach
Budget Accuracy: For facility owners and project teams, having reliable cost data is a key element to supporting decision-making that guides a project's design. A contractor with extensive, successful healthcare experience is likely to have representative unit pricing and historical cost data that they can use for reference. Since this is all that we do, we have customized our estimating tools for health and science projects. Combined with our extensive historical cost database, this enables us to provide reliable cost information at the earliest stages of a project and anticipate how the design will progress as it relates to the project budget.
Creativity: There are many different types of environments included under the umbrella of health and science facilities, requiring openness to diverse perspectives and creative ideas from both designers and contractors. For example, EvergreenHealth's Family Maternity Center included a two-story, 41-foot-tall atrium that required an infection control barrier. Similar atria in airports came to mind as our team looked at the cavernous space, and we developed a barrier solution using scaffolding to anchor our fire-retardant plastic along with two-inch rigid foam to reduce noise transfer. These measures turned out to be an excellent and effective solution for this unique space.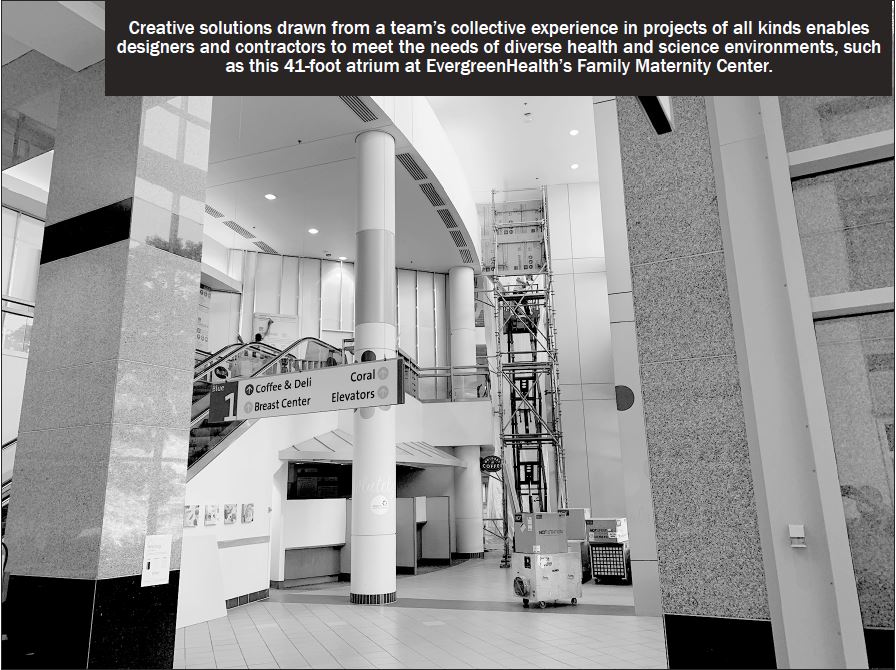 Knowledge Sharing: The strict codes and requirements combined with the variety of space types in health and science make partnership and knowledge sharing between designers, contractors, and owners a key factor in devising effective and innovative solutions. We hold a Thursday morning superintendent's huddle, a Friday project engineer's huddle, and a Monday project manager's huddle.
These huddles often lead to teams sharing creative approaches and resources to support each other and bring the value of our company's collective wisdom to every project. For example, we had one project team constructing modular patient rooms at EvergreenHealth, and another team looking for the right solution for an ophthalmology clinic for Northwest Eye Surgeons (NWES). We proposed the modular idea to NWES and it ended up working best for them as well. Our teams also keep an ear to the ground on material availabilities—a particularly relevant topic as supply chain disruptions continue to challenge all construction projects.
Best Practices
Design-Build and Integrated Models: More owners, such as the University of Washington, Moses Lake Community Health Centers, and Northwest Kidney Centers continue to adopt design-build and other alternative delivery methods. The goal of design-build and other models like it is to create a more integrated and collaborative approach between owners, designers, and contractors. Integrated models can also shorten project timelines, which supports the owner's speed to market goals.
We believe in the value of this integrated approach. As such, most of our project management staff is DBIA certified, with the plan to have all management team members complete certification within the next two years.
Trust and transparency between all team members are the cornerstones of maximizing these integrated processes. We encourage this environment through team partnering and developing project charters, full team kickoff meetings that get all parties on the same page, and regular project executive meetings where leaders from all key parties, owner included, can speak openly about project progress and challenges.
Expanding and Changing Care: We're seeing more primary and specialty care centers opening in communities and rural areas. This expansion correlates with the implementation of the Affordable Care Act and population shifts out of expensive metro areas. Healthcare communities have also increased investments in behavioral health, residential treatment facilities, elective surgeries for a growing aging population, and user-centered biophilic design approaches that support decreased patient mortality rates and decreased staff absenteeism and turnover. More specialty centers and designs that incorporate user feedback and connectivity to the natural environment mean an even greater diversity of environments that require specialized capabilities from the design and construction community.
Many owners continue to invest in practice flow study and operational efficiency to streamline the patient/provider experience. All of these trends are important to understand so that we can ask the right questions early, support reliable decision-making, and help bring the best value to our clients and their patients.
Although we only practice in one market, we find there's never a dull moment. Together with owners and designers, we're tackling some of the more complex challenges in the built environment and supporting our communities through the places they go for care. We're proud to specialize in health and science construction.
Celebrating Anniversary Milestones and Long-Time Partnerships! See our advertisement on page 9 of this edition celebrating our 50th anniversary and highlighting one of our key client partners, Northwest Kidney Centers, also celebrating a milestone 60th anniversary this year!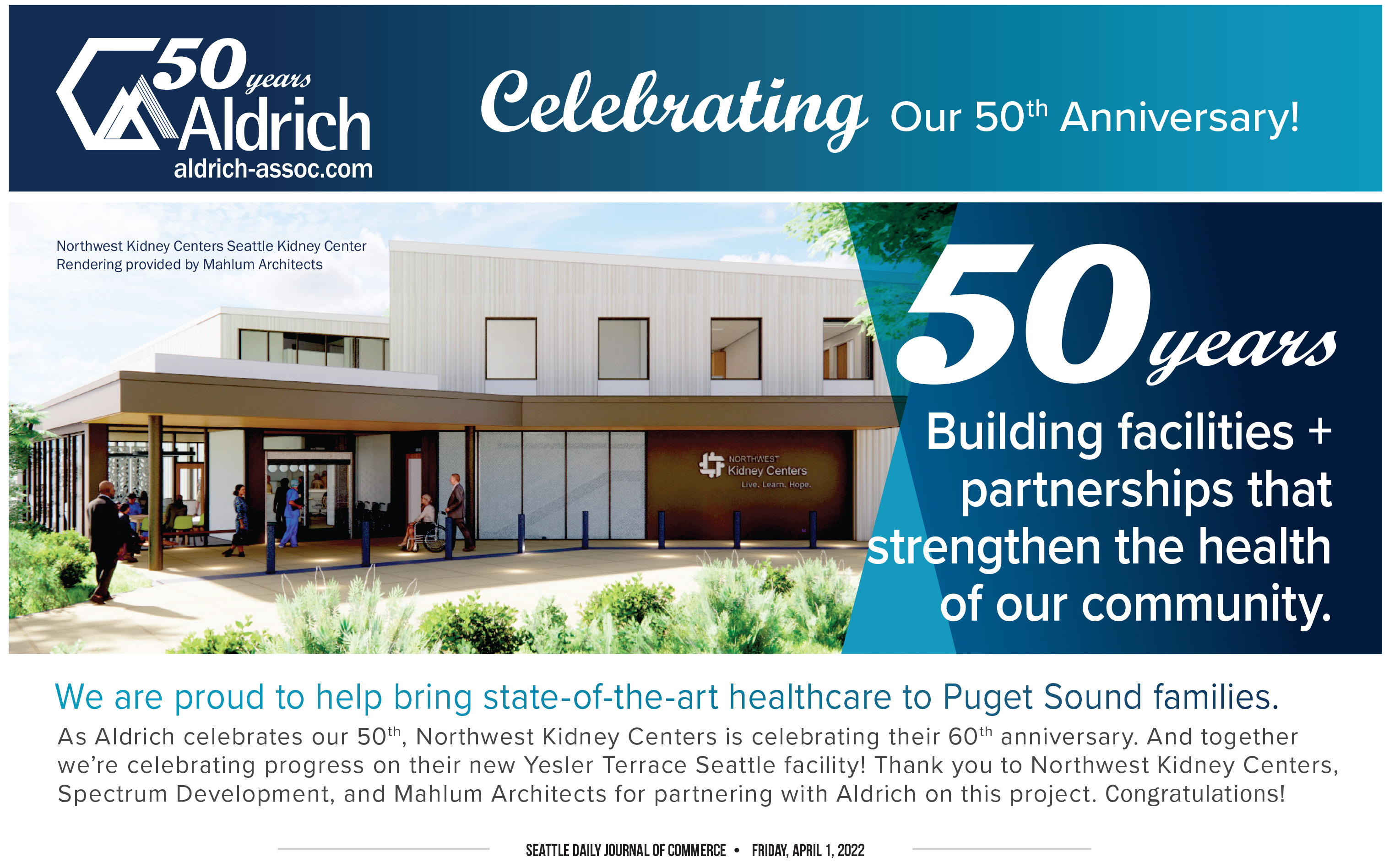 Honorable Mention: The recently completed EvergreenHealth Lee Johnson Family Intensive Care Unit is highlighted in KMD's ad on page 16.