10 Years, 100+ Seattle Children's Hospital Projects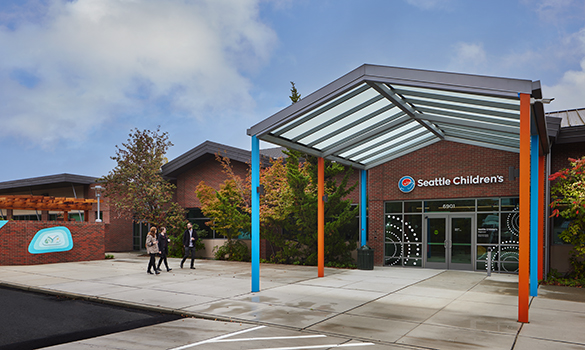 Developing strong relationships with clients + project partners is one of the things we value most in how we operate our business
Our long relationship with Seattle Children's Hospital is a great example. Over the past 10 years, we've constructed multiple challenging and unique projects at both the main campus and regional facilities in occupied inpatient areas, including operating rooms, a hybrid Cath lab, and an electrophysiology (EP) lab.
Seattle Children's involves many different people in project decision-making, and the key to working successfully and smoothly with many stakeholders is understanding their needs, their workflows, and their spaces, and adapting to them with detailed coordination and proactive communication. We've enjoyed working on these creative and challenging projects with the Seattle Children's team and taking lessons learned to heart!
Bringing the Client's Vision to Life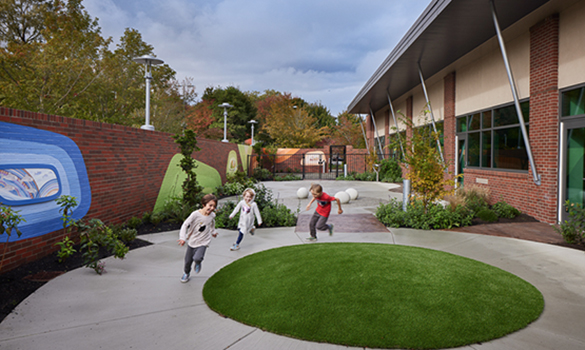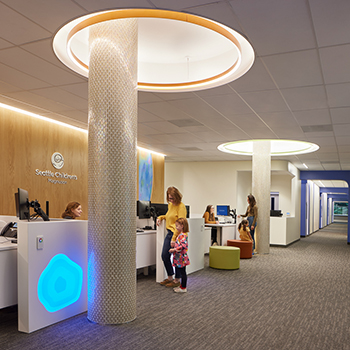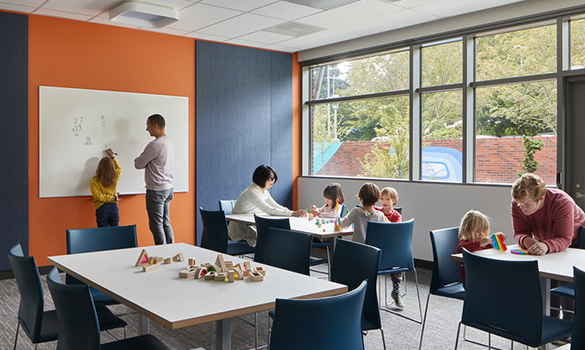 A Commitment to the Future: In one of their latest endeavors, Seattle Children's made the long-term commitment to expand pediatric mental health services for children with the beautiful new Seattle Children's Magnuson clinic. Designed to serve youth with autism and behavioral health needs, they renovated 50,100-SF of an existing building at 70th and Sand Point Way into treatment rooms, clinical spaces, and research facilities all in one location. By bringing together clinicians and researchers into the same facility, they can focus their programs on providing the highest quality, family-focused healthcare. Aldrich worked alongside ZGF and our industry partners to deliver the new clinic, which opened its doors to patients on December 12, 2022.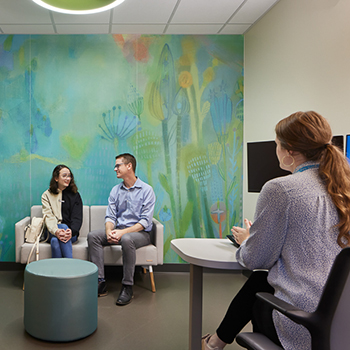 Navigating the Challenges of a Pandemic: Since the start of the COVID-19 pandemic, child psychiatric emergencies have increased by 30%. In addition to the early challenges of working through the COVID-19 pandemic and keeping everyone healthy and safe, the Aldrich team has also navigated the supply chain issues hitting the industry as a whole. With ongoing communication, we kept Seattle Children's facilities, staff, and patients apprised as we stayed on top of changing conditions.
Business as Usual During Construction: The project involved both interior and exterior improvements. The facility remained fully operational even with Seattle Children's shuttles sharing the parking lot entrance and exit paths with deliveries and workers and with offices beneath the construction zone. Through ongoing coordination and communication to work around each other's schedules, we kept everyone moving and working smoothly in the area.
Two key Aldrich team members celebrated their 25-year employment milestones while working on this project: Superintendent Brett Price and Lead Carpenter Trever Gore!
Innovations from Seattle Children's Project Adopted in A+ Approach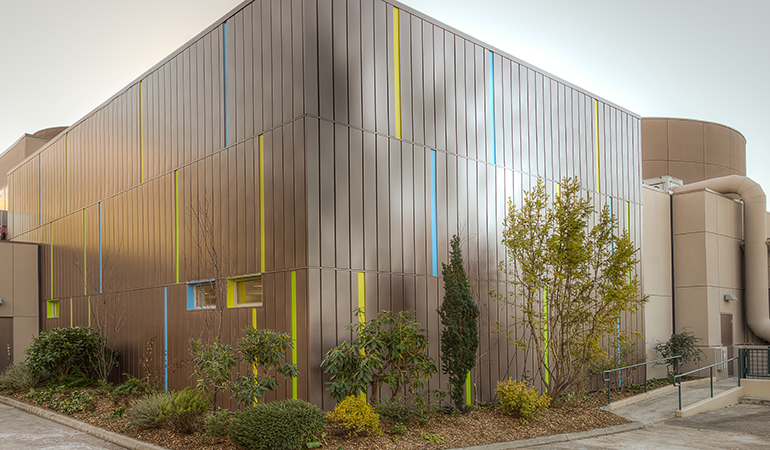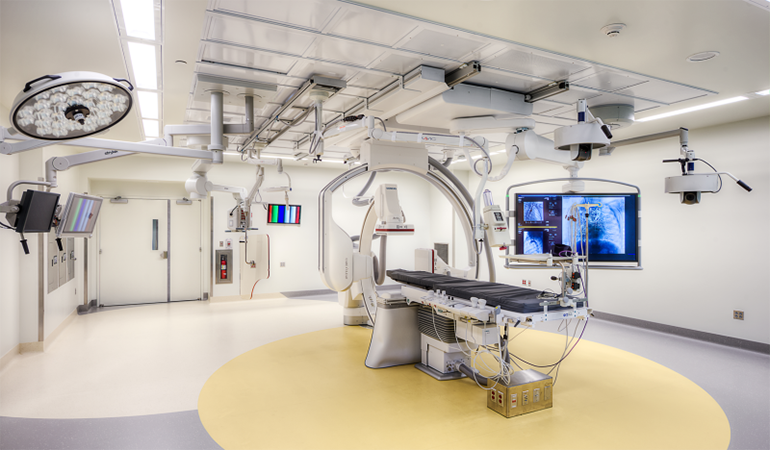 Creative Epoxy Application in the Cath Lab: The Seattle Children's Hybrid OR/Cath Lab was one of our most challenging projects in an occupied facility, located right next to a 14-room operating theatre and above the mailroom and loading dock area. We worked closely with the design engineers to develop a solution that would minimize impacts and maintain operations in this sensitive, 24/7 area of the hospital.
The Cath Lab structural design required boring six-inch diameter holes 12 feet deep into the support columns to anchor new columns on top of existing columns and avoid having to tear out any drywall, which limited our impact on shipping and receiving operations. Then Superintendent Matt Perhatch devised a simple yet innovative "Q tip" applicator—a foam Nerf basketball crushed on an all-thread shaft to the exact width of the boreholes mounted on a length of steel conduit. This out-of-the-box solution enabled consistent epoxy application inside the boreholes. To tie the new concrete systems to the existing structure required the team to drill and epoxy about 2,000 one-inch holes for rebar.
"The primary differentiator of Aldrich in the industry is that they are partners in finding solutions to problems; they are proactive, and they work tirelessly to find a creative solution to any problem." —Sandy Miller, (former) Director of Facilities Planning + Design, Seattle Children's Hospital
Our team held daily meetings with the charge nurse and surgery manager to coordinate times throughout the day when hospital operations could accommodate the noise and vibration from drilling. In small increments, such as three hours in the morning, over the lunch break, or three hours at night, our team completed the drilling without impact on the surgery center.
Adopting the Weekly Huddle: Every week, all of Seattle Children's 70+ managers gather in a team meeting to discuss project success stories and lessons learned. We adopted this practice in our own company as an opportunity to communicate, coordinate, and learn from each other. All Aldrich superintendents meet every Thursday morning to discuss the week's successes, challenges, concerns, and noteworthy upcoming happenings, such as new hires. This weekly meeting connects our superintendents and gives them a chance to learn from and support each other. Our business development and marketing teams also join in to share the latest on pursuits and other activities. We've expanded the idea and created a huddle for our project engineers, which has been a huge success as a learning and communication opportunity. Our weekly huddles, and the opportunity they provide for our team, are a true testament to our family-like culture of support and care.
"Matt and the Aldrich team were extremely sensitive to minimizing any impact on operations. Using planning, daily/weekly huddles, and immediate feedback, we have been able to move the project forward while being sensitive to ongoing surgical care delivery. This has been a very good partnership." —Kelly J. Malone, (former) Director of Operative Services Value Stream, Seattle Children's Hospital
Forging Long-Lasting Relationships
Before they were President and General Superintendent, respectively, George Ward and Matt Perhatch delivered one of our earliest projects for Seattle Children's Hospital, creating the foundation of this long-lasting relationship. The Aldrich team supported Seattle Children's and NBBJ Architects from the early stages of concept design to construct a new 15,000-SF Sleep Center and Behavioral Health clinic in the Overlake Medical Tower in Bellevue. Completed in June of 2011, the Sleep Center and Behavioral Health Clinic at Overlake Hospital Medical Tower was the precursor for the 2021 renovation of the same space for the diagnosis and treatment of sleep disorders in children. Talk About a Dream Job: Seattle Children's Sleep Center at Overlake Medical Tower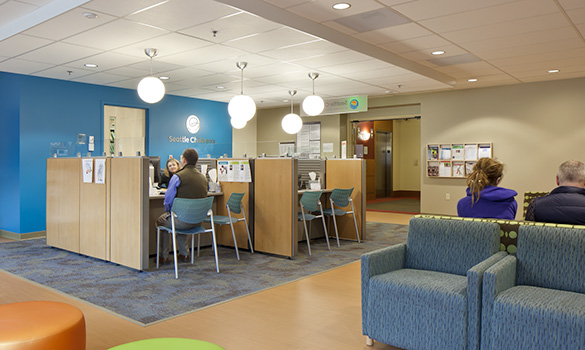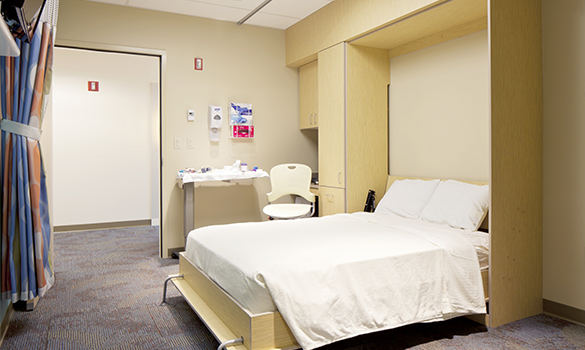 Constricted Space Required Significant Coordination: During preconstruction, George provided early budgeting, site investigations of existing infrastructure, and developed logistics and infection control plans to execute the work on the fourth floor of the fully occupied medical tower. In construction, intensive upgrades to above-ceiling MEP infrastructure in a tight ceiling plenum and a tremendous amount of data cabling for video surveillance and communication systems necessitated considerable coordination with facility engineers and IT. Matt orchestrated construction activities into two phases avoiding disruptions to the medical building's ongoing operations and adjacent patients and staff.
"They have the attitude and the confidence to do it right. These projects are incredibly difficult, and we couldn't do it if people didn't provide these kinds of results." —Bob Greene, (former) Project Manager, Seattle Children's Hospital
The Aldrich + Seattle Children's Partnership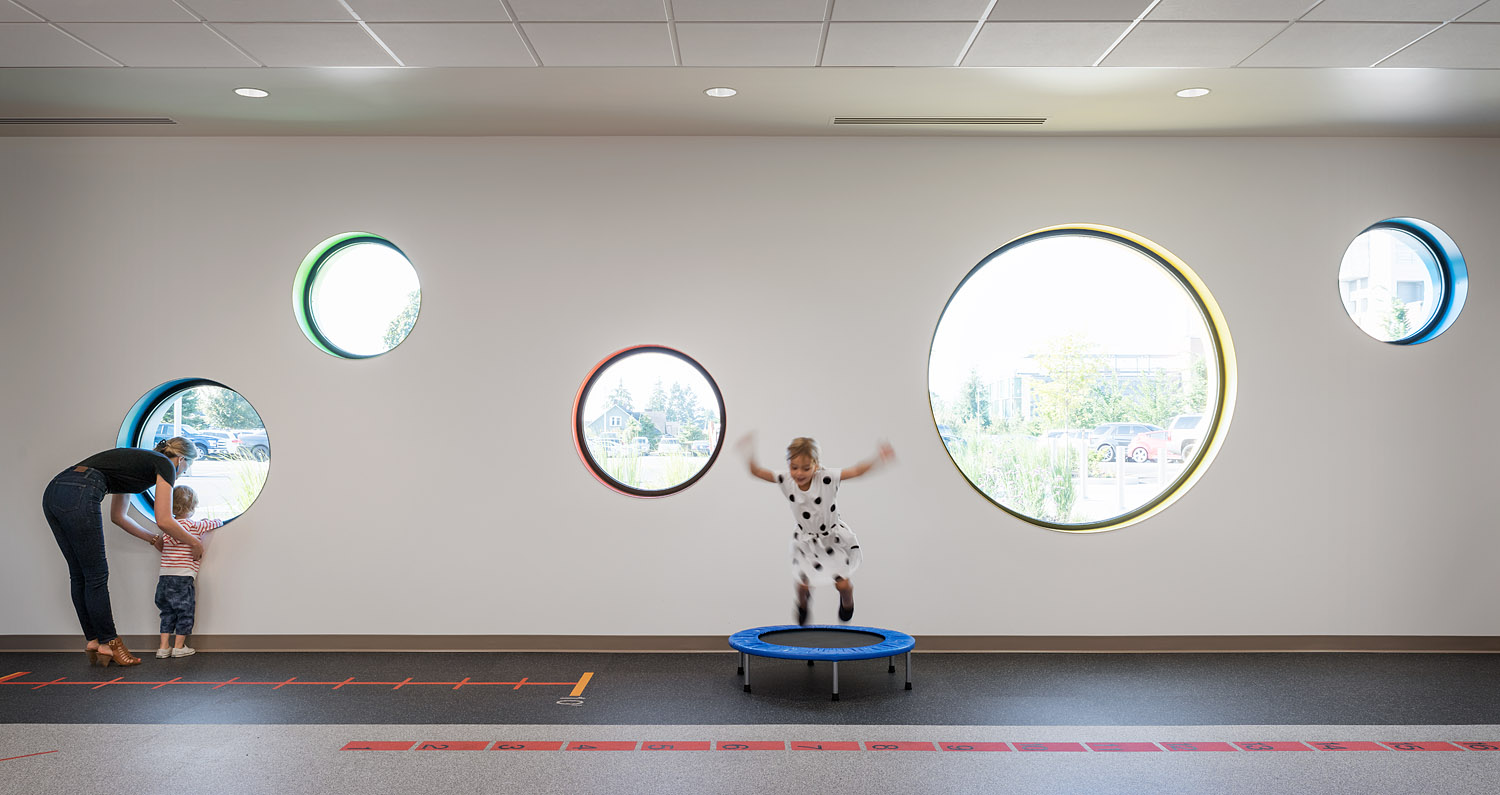 Aldrich's consistency and reliability to deliver the best value over the last decade have led Seattle Children's partnering with Aldrich on hundreds of projects and we've loved every minute! To learn more about our long-tenured relationship with Seattle Children's, here are a few additional blog posts and project portfolios from the last few years:
We're Not Kidding Around: Seattle Children's Springbrook Prenatal Clinic (2021)
Seattle Children's Endocrinology Clinic (2019)
Seattle Children's North Clinic Designed for Kids (2018)
ENR's Best Healthcare Projects of 2016: Seattle Children's South Clinic (2016)